Tropical cyclones - violent, spiralling wind and rain systems
Tropical cyclones are usually defined as low-pressure systems that form over warm, tropical waters. To an ordinary person, this definition makes them sound almost innocuous, but as anyone who has witnessed a cyclone knows, this is far from the case.
They are violent, spiralling wind and rain systems that can wreak havoc at sea and on land, causing extensive flooding and foreshore erosion, wind damage and loss of property and life.
Widespread, gale force winds
In a tropical cyclone, gale force winds—sustained winds of 63 km/h or more, with gusts over 90 km/h—can extend for hundreds of kilometres, rotating around the eye, or centre, of the cyclone.
In severe tropical cyclones, winds exceed 118 km/h with gusts over 165 km/h.
Circular eye
At the centre of a mature tropical cyclone is a relatively calm area known as the 'circular eye', with light winds and often clear skies. The eye is usually about 40 kilometres wide, but can range from ten to over 100 kilometres.
Around the eye is a dense ring of cloud, about 16 km high. This is the eye wall and marks the belt of the strongest winds and heaviest rainfall.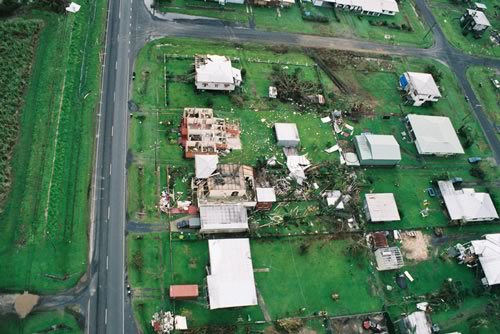 Damage to houses in Innisfail, Queensland, caused by tropical cyclone Larry, March 2006. Photograph by Peter Otto
Forming, persisting and weakening
Tropical cyclones can only form when the sea surface temperature is over 26.5°C. However, once formed, they can persist over lower sea surface temperatures.
They can last for many days, and follow erratic paths. In our region, they can be more erratic than in other parts of the world, moving in any direction, making sharp turns, and even loops.
Tropical cyclones usually weaken over land or colder oceans.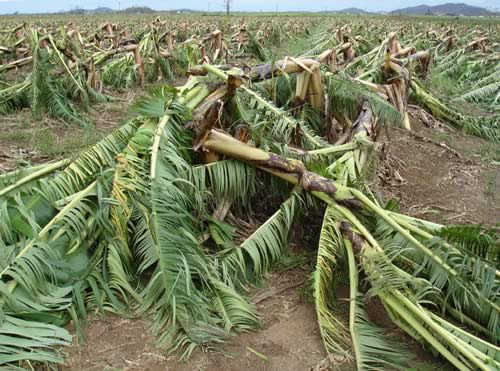 Damaged banana plantation in Innisfail, Queensland, caused by tropical cyclone Larry, March 2006. Photograph by Jim Davidson.
Radar and cyclone tracking maps
You can watch the progress of a tropical cyclone and see its forecast movement, by checking out our weather radar and tropical cyclone forecast map.
Article URLs