Extreme heatwave to continue for large parts of Western Australia
22/01/2015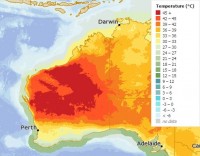 The Bureau of Meteorology is forecasting extreme heatwave conditions to continue for large parts of Western Australia, with severe heatwave conditions extending into the Northern Territory.
A very large, slow moving hot air mass currently situated over inland Western Australia is causing a build up of heat, which has already seen widespread temperatures in the mid-to-high 40s for the Pilbara, Gascoyne and Interior regions this week.
Severe heatwave conditions are forecast to spread to the east, with the Northern Territory seeing temperatures well above average over the weekend.
On Tuesday (21 January) the town of Carnarvon on Western Australia's northwest coast recorded its equal hottest day, and hottest January day, with a maximum temperature of 47.8°C.
The hottest temperature on record in Western Australia is 50.5°C at Mardie (19 February 1998). The hottest temperature recorded in Australia is 50.7°C at Oodnadatta in the far north of South Australia (2 January 1960).
Western Australia's Department of Health provides the following health advice:
Drink plenty of fluids.
Try to stay inside with a fan or air conditioner on.
If you have to go outside, go in the early morning or late evening and stay in the shade.
Wear light coloured, loose clothing and take a hat to wear outside.
Always use plenty of sunscreen.
Don't do a lot of exercise outside when it is very hot.
To help you sleep use a water spray mister on your face and body.
Keep taking any regular medicine even if you feel unwell because of the heat.
For further information on the heatwave conditions, refer to the Bureau's Pilot Heatwave Service:
The Bureau's Pilot Heatwave Service provides a measure of the build-up of 'excess' heat and will provide a more advanced indicator than minimum and maximum temperatures alone in anticipating the impact of heat stress.
The service uses a heatwave intensity index that assesses the build-up of heat over a period of time, taking into account the long-term climate of a location and the recent variability in maximum and minimum temperatures leading up to a heatwave event.