Bureau welcomes release of Technical Advisory Forum report
18/06/2015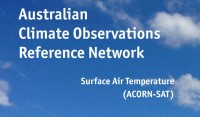 The Bureau of Meteorology welcomes the release of the first annual report of the Technical Advisory Forum established to advise the Bureau on the development and operation of the Australian Climate Observations Reference Network – Surface Air Temperature (ACORN-SAT) dataset.
The Forum was established in response to one of the recommendations of an independent peer-review of the dataset undertaken in 2011, which expressed overall confidence in the Bureau's practices and found its data and analysis methods to be among the best in the world. The Forum members were appointed by the Parliamentary Secretary to the Minister for the Environment for a three-year period to meet annually and provide recommendations on further development of ACORN-SAT.
The Forum's report provides the Bureau with independent scientific and statistical expertise and advice on the future management of the dataset.
The Bureau welcomes the Forum's conclusion that homogenisation plays an essential role in eliminating artificial non-climate systematic errors in temperature observations, so that a meaningful and consistent set of records can be maintained over time. We note that the Forum considers that the analyses conducted by the Bureau reflect good practice in addressing the problem of how to adjust the raw temperature series for systematic errors. We note also that the Forum concluded there is scope for improvements that can boost the transparency of the dataset and increase its usefulness as a decision-making tool, particularly in the area of developing uncertainty measures.
The Forum made five recommendations to guide the Bureau's approach to continuously improve the ACORN-SAT dataset. The Bureau is carefully considering the Forum's report and will shortly release a formal response to their recommendations.
The Bureau looks forward to working closely with the Forum for the duration of its three-year term to further enhance the quality and value of the ACORN-SAT dataset.