Further snow forecast for the New South Wales ranges
15/07/2015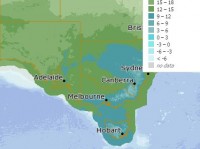 The Bureau of Meteorology is alerting residents and farmers to prepare for a second burst of cold, snowy weather on Thursday and Friday which will see temperatures drop towards zero or subzero in many locations.
New South Wales Regional Director, Barry Hanstrum, said the conditions were associated with another surge of cold air that will move up over the New South Wales ranges on Thursday.
"We're expecting further snow over the Alpine border region on Wednesday, extending to the northern ranges by Thursday night. In places like Guyra, Armidale and the Barrington Tops it will be the second snow fall within a week," Mr Hanstrum said.
Mr Hanstrum said that while this system may not come as a shock after the recent cold outbreak, anyone planning outdoor activities should continue to keep a close eye on weather forecasts and warnings.
Graziers are warned that these cold temperatures and snow showers will increase the risk of stock losses exposed to these conditions.
Wet, cold and windy conditions are also forecast for Sydney, Newcastle and Wollongong on Friday.
NSW SES Commissioner Adam Dent said that it was important that people were not complacent and undertook necessary preparations if living or working in affected areas or if intending to travel on mountain roads.
"Last weekend there were reports of numerous accidents as people unfamiliar with snowy roads lost control. If snow is forecast along your route delay non-essential travel or leave before snow starts.
"In the Blue Mountains the SES had to assist several stranded bushwalkers, so if you are planning a back country trip pack for the conditions, let someone know where you are going and when you are returning, carry an EPIRB and consider delaying your trek until weather improves."
Commissioner Dent added that some areas experienced power outages last weekend due to snow and strong winds.
"Should power fail, have an emergency kit with battery powered torch and radio handy and if you do need emergency help, call the SES on 132 500 or 000 if it is a life-threatening emergency."
For further information go to the Bureau's website for the latest Warnings and Forecasts.
Snow enthusiasts can also check the Bureau's Australian Alps forecasts www.bom.gov.au/australia/alpine
The Bureau is also using Twitter to disseminate significant weather information for the community. The Bureau's website remains the most up-to-date and comprehensive official source of information.