Bureau storm damage assessment confirms Kurnell tornado
17/12/2015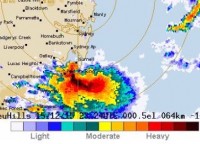 Issued: Thursday 17 December 2015
Early results from a Bureau of Meteorology damage assessment of the severe thunderstorms that impacted parts of Sydney yesterday have confirmed a tornado.

Kurnell and the surrounding coastal region was affected mid-morning yesterday with a peak wind gust of 213km/h recorded at the Kurnell Automatic Weather Station.
NSW Severe Weather Forecaster Michael Logan said: "The intensity of the storm as detected on radar, combined with the peak wind gust recorded at Kurnell and narrow damage path, suggests it is extremely likely a tornado was associated with this very severe thunderstorm.
"The wind gust recorded at Kurnell is the strongest maximum wind gust we have seen in New South Wales and is consistent with an F2 (Fujita F-scale) tornado. It's well above the previous strongest recorded wind gust of 171km/h at Nobby's Beach in Newcastle in May, 1974.
"This event was unusual in that it occurred before lunch and moved from the sea to clip the coast around Kurnell. Most severe thunderstorms in Sydney occur during the afternoon, and either develop over Sydney or move through from the ranges to the west."
Tornadoes are a relatively rare phenomenon in Australia, and usually on the lower end of the tornado intensity scale, known as the Fujita Scale (F0 to F5), with F2 being in the mid-range of the scale.
Wind gusts recorded during the first storm between 10am and 11am:
213km/h at Kurnell (10.33am)
142km/h at Molineaux Point, Botany Bay
111km/h at Little Bay
A second storm brought torrential rain and severe winds to Sydney's southern coastal region and eastern suburbs between 1 and 2pm:
125km/h at Molineaux Point, Botany Bay
111km/h at Kurnell
102km/h at Sydney Airport
53mm recorded in half an hour at Rose Bay
32mm recorded in half an hour at Cronulla.
To read more about tornados go to the Bureau Blog: Around the twist: Facts about tornadoes