Southeast Qld and eastern NSW urged to prepare for a wet and windy weekend
02/06/2016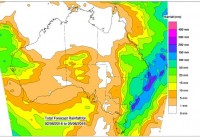 Southeast Queensland and northern New South Wales will be first to receive a deluge of rainfall caused by a developing East Coast Low.
Widespread falls in the range of 20-80mm are forecast for inland areas for both States beginning tomorrow, with possible thunderstorms.
Acting Queensland Regional Director Bruce Gunn said rainfall will increase to a range of 50 to 150mm in coastal regions of southeast Queensland and northern NSW with the heaviest falls in these areas expected on Saturday afternoon.
"With events like this, localised falls in excess of 250mm are possible, particularly in coastal areas and at elevation including the Sunshine Coast Hinterland and ranges extending south into NSW," he said.
With a King Tide expected and huge seas creating dangerous surf conditions, significant coastal inundation and beach erosion are also likely.
The system is relatively fast moving, with conditions expected to ease on the northern fringe from Bundaberg to the Sunshine Coast Saturday afternoon, clearing Brisbane, the Gold Coast and northern NSW overnight (Saturday).
Acting New South Wales Regional Director, Jane Golding, said as the system moves south it is likely to develop into an East Coast Low.
"The system will likely impact the entire NSW coast and adjacent ranges over the weekend, with widespread heavy rain and high winds that have the potential to cause riverine and flash flooding, bring trees down and cause property damage," she said.
Members of the public are urged to stay tuned for updated forecasts and warnings, follow the advice of local emergency services and not to drive, ride or walk through flood water.
A Flood Watch has been issued today for Queensland and NSW rivers, and this along with Severe Weather Warnings, will be updated progressively throughout this event.
For further information including Flood and Weather Warnings, and rainfall and radar information, go to the Bureau's website www.bom.gov.au.
The Bureau is now using Twitter to disseminate significant weather information for the community. Follow us @BOM_NSW and @BOM_QLD.
The Bureau's website remains the most up-to-date and comprehensive official source of information.