Widespread rain for eastern NSW this weekend
17/06/2016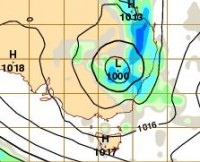 Widespread rainfall can be expected across eastern New South Wales this weekend, with the potential for some stretches of the coast and western slopes to receive heavy falls.
The conditions will be driven by a developing low pressure system over the state, which will move eastwards to reach the coast on Sunday. An East Coast Low is expected to briefly develop over the warmer waters off the central or southern NSW coast late Sunday before rapidly moving out into the Tasman Sea on Monday.
Acting NSW Regional Director Jane Golding, said this East Coast Low was expected to create different conditions to the severe weather system of two weeks ago.
"It is difficult to accurately predict rainfall totals while still gauging how the system will develop, but at the moment all of the guidance is pointing to the coastal areas north of Port Macquarie and south of Sydney receiving their heaviest rainfall on Saturday night and Sunday," Ms Golding said.
"The central and western slopes of the ranges will also see steady rain over the weekend and thunderstorm activity in this area may result in some localised heavy falls.
"Overall the higher rainfall totals are not expected to be as large or as widespread as the event we had in early June, however given the wet condition of the catchments in these areas there is a risk of riverine and flash flooding."
Residents are advised to keep an eye on the Bureau's website for updated forecasts and warnings as the event evolves. A Flood Watch has been issued this afternoon for north east and central west inland river valleys, coastal river valleys north of Bellinger, and Nepean Hawkesbury River Valley. The Bureau anticipates it will issue a Severe Weather Warning for the coastal areas closer to Sunday.
"Locally damaging winds may also develop along the southern or central coastal fringes over the weekend, depending on where the low develops."
The Bureau of Meteorology and the NSW State Emergency Service have been working together in preparation for the upcoming conditions.
NSW State Emergency Service Acting Commissioner, Greg Newton, encouraged NSW residents to be safe with the approaching severe weather.
"Being FloodSafe is quite easy and if you follow a few simple steps you can help protect yourself, your friends and your family from the dangers of floods," Acting Commissioner Newton said.
"Start by knowing the flood risk in your area, keep up to date with the latest weather information and warnings, follow the instructions of emergency services and never enter floodwater."
For more FloodSafe information go to: www.floodsafe.com.au
For the latest flood and weather warnings, and rainfall and radar information, go to the Bureau's website at www.bom.gov.au.
The Bureau is now using Twitter to disseminate significant weather information for the community. Follow us @BOM_NSW. The Bureau's website remains the most up-to-date and comprehensive official source of information.