Severe weather and wind warnings
28/09/2016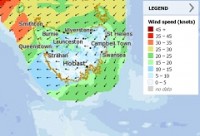 The Bureau of Meteorology in Tasmania is forecasting an intense and complex low pressure system to move into the Tasmanian area during Thursday. This system will affect Tasmania during Thursday and Friday
Regional Director for the Bureau of Meteorology in Tasmania Mr John Bally highlighted the following weather conditions that may pose a risk to the community.
Heavy rainfall in parts of the north and east of the state during Thursday and into Friday morning. Rain totals of 60 to 80 mm are possible with possibly over 100 mm in elevated areas
Strong and gusty north-easterly (80 to 90 kmh) winds are expected on Thursday through to Friday morning in the North and East of the State with waves increasing to 3 to 5 metres in eastern coastal waters.
Northern catchments are already near capacity and even relatively modest falls of rain are likely to lead to strong river rises particularly in the South Esk, Macquarie, Meander, North Esk and Jordan rivers leading to minor to moderate flooding.
Combination of strong and gusty winds, reduced visibility (rain) and wet roads will lead to particularly hazardous driving conditions in northern and eastern parts of the State.
The following weather warnings are current for Tasmania.
Severe Weather Warning for damaging wind gusts in Northern and Eastern Tasmania.
Coastal Wind Warnings for all coastal waters (gale or strong wind warnings)
Road Weather Alert for Northern and Eastern Tasmania for hazardous driving conditions.
Flood Watch for all Northern and Eastern river basins.
SES Acting Director Brian Edmonds advises the public in affected areas to:
Drive to the conditions - Do not drive, walk, swim or cycle through flood waters
People in communities within these catchments should be mindful of the impacts of possible raising river levels and take precautions
Beware of damaged trees and power lines, trees & limbs may fall in these conditions
Farmers and graziers on low lying areas are advised to move stock and agricultural equipment to higher ground
Secure outdoor items including furniture and play equipment (i.e. trampolines can become a hazard in higher winds)
Check that family and neighbours are aware of warnings
Manage pets and livestock
Be prepared in case of power outages
Ensure drains and gutters are clear of debris and are running freely
Disaster preparedness is a shared responsibility
Stay abreast of road closures by monitoring the Tasmania Police website police.tas.gov.au/community-alerts or by calling 131 444
For current weather warnings see bom.gov.au/tas/warnings/
For further detail monitor the Bureau of Meteorology website at bom.gov.au
For flood and storm emergency assistance, contact the SES on 132 500
SES has volunteer units on standby.