Extreme heatwave conditions could break records
10/02/2017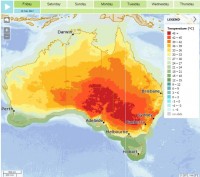 New South Wales could experience its hottest February day on record tomorrow, as extreme heatwave conditions peak across the state.
Bureau of Meteorology forecasts indicate temperatures will reach the mid-40s in many inland areas and high 30s along the coast for the next two days.
Sydney's Observatory Hill is expected to reach temperatures of 38 degrees today, rising to 39 tomorrow, while the temperature in Penrith is forecast to reach 45 on Saturday.
Acting NSW Regional Director Stephen Lellyett said a stationary mid-level ridge over central Australia had caused a build-up of heat over the interior of the continent over the last few weeks.
"An approaching front to the south is now dragging this hot air down across New South Wales," Mr Lellyett said.
'This will lead to widespread severe heatwave conditions and locally extreme heatwave conditions along parts of the coast.
"Fire weather warnings are also likely during the weekend as the system will lead to increasing wind speeds in conjunction with the extremely hot temperatures.
"The forecast Catastrophic fire weather conditions on Sunday in the upper Hunter and fringes of adjoining districts are rare in NSW. Sunday is shaping up to be the worst fire weather day so far of the season."
Forecast models indicate the front will sweep through the state on Sunday, leading to some relief from the extreme heat from Monday.
January was the hottest month on record for Sydney since 1859. A number of areas in the state, including Moree and Walgett, have experienced a significant number of consecutive days over 35 degrees and will come close to the record of 50 hot days in a row.
The Bureau of Meteorology has been working closely with NSW Government authorities to ensure the community is prepared for the heatwave conditions.
Up-to-date forecast information and weather observations are available at www.bom.gov.au or via our app.