See lightning in a flash - new lightning viewer on Bureau website
05/07/2017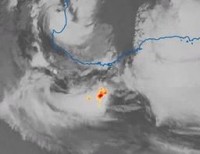 The Bureau of Meteorology has released a 'cracking' new lightning viewer available at satview.bom.gov.au
This lightning detection service has been added as a viewing option or 'layer' for the Bureau's high definition Himawari satellite cloud viewer and is updated every 10 minutes.
The Bureau's General Manager Data Dr Anthony Rea said the addition of a near real-time information lightning service can help people seek safety in advance of an approaching thunderstorm.
"Lightning is dangerous. It is associated with thunderstorms and can occur well away from the storm's centre," Dr Rea said.
"Adding the new lightning layer to the satellite infrared cloud image will also help Australians living in remote areas with limited radar coverage to identify severe weather and track thunderstorms."
The Bureau's viewer shows the frequency of lightning ranging from two to more than 20 strikes every ten minutes. It also shows the most recent four hours of lightning data consistent with the satellite cloud image updates.
The lightning coverage is Australia-wide and extends into the surrounding high seas.
Users can zoom into to an area only slightly bigger than that of New South Wales. They can also select viewing options that add coastal and state boundaries, as well as roads and cities, to show where lightning has struck.
An animation of the new lightning detection viewer is available at www.media.bom.gov.au/download