Large volcanic eruption Mount Sinabung, Indonesia
19/02/2018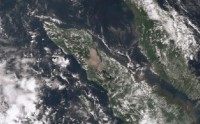 There will likely be disruptions to flights in the vicinity of Mt Sinabung in Northern Sumatra, Indonesia, following a large eruption at 12.53pm AEDT today.
The eruption has sent volcanic ash 55 000 feet into the atmosphere.
The Bureau of Meteorology's Volcanic Ash Advisory Centre (VAAC) has briefed airlines and will continue to work closely with the aviation industry.
The VAAC's advice for the aviation industry relies on ground-based and satellite observations, pilot reports, and sophisticated forecasting models to monitor the current location and forecast movement of volcanic ash.
Airlines make their own decisions on when to fly based on their risk management approaches.
For more information: Plane talking: tracking and forecasting volcanic ash