Cyclone Owen forecast to stage a comeback in the Gulf
11/12/2018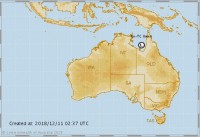 Ex-tropical cyclone Owen moved into the Gulf of Carpentaria overnight, where it will re-intensify today over northern Australia's warm tropical waters.
Bureau of Meteorology State Manager for Queensland Mr Bruce Gunn said Cyclone Owen could reach Category 1 strength as early as tonight and is forecast to intensify to Category 3—or Severe Tropical Cyclone strength—before turning back toward the western coast of Cape York Peninsula.
"Catchments in Queensland's Far North coastal districts and Cape York Peninsula have already received significant rainfall in recent days during the passage of the low in a westerly direction.
"Cyclone Owen is producing very heavy rainfall around the Gulf coast and will bring tropical moisture with it as it makes a U-turn and tracks overland again," he said.
A Flood Watch is already in place for catchments in the Gulf of Carpentaria and southern Cape York Peninsula.
"Following this, some models bring the cyclone overland and down Queensland's east coast with widespread heavy rain, thunderstorms and strong winds throughout this week and into the weekend.
"This is an evolving situation, with the potential to be a high-impact event so it's important that the community follow official warnings on the cyclone's forecast track and associated impacts including flooding, damaging to destructive winds and storm activity.
"With many people travelling during the school holidays, we are urging the public to stay tuned for updated warnings, be aware of local conditions and always follow the advice of local emergency services," said Mr Gunn.
For the latest information see warnings and the cyclne portal on our website: www.bom.gov.au/cyclone.
ENDS…