WEATHER UPDATE: Tropical Cyclone Owen in the Gulf of Carpentaria
12/12/2018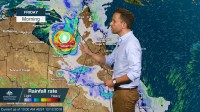 METEOROLOGIST, DR ADAM MORGAN: Hello from the Bureau, with an update on tropical cyclone Owen in the Gulf of Carpentaria, which re-intensified to Category 1 strength late yesterday.
He's been called the 'zombie' cyclone in some media reports, for coming back to life after a 'first go' in the Coral Sea last week, but it does happen from time to time that cyclones weaken and then re-intensify later on, so it's not too unusual in that sense.
This morning, Owen is currently northeast of Borroloola, still at category 1 strength, and drifting slowly towards the west.
That track will continue throughout today, while intensifying towards Category 2, but then we expect Owen to do a U-turn as he gets pushed towards the east by an upper trough moving across southern Australia.
The cyclone warning area currently extends from Cape Shield in the Northern Territory through to Burketown in Queensland, including Groote and Mornington Islands.
Although we don't expect the centre of Owen to make landfall along the coast in the Territory, the warning covers the risk that we'll see cyclone strength winds potentially brush parts of the Gulf coastline, with destructive gusts as high as 130 km/h from Borolloola to near the Queensland border, depending on how close to the coast Owen moves.
Cyclone Owen is also producing heavy rainfall, and we'll see that rain develop about the islands and coastal areas of the western and southern Gulf during today and tomorrow.
At this stage, a coastal crossing on the Cape York side of the Gulf looks likely for Friday, potentially as a Category 3 severe tropical cyclone with wind gusts of at least 165 km/h near the centre.
A Flood Watch is already in place for catchments in the Gulf and southern Cape York Peninsula, as Owen brings more tropical moisture with him.
Into the weekend, all eyes will be on the future movement of Owen into Queensland as he continues to be steered towards the east.
Some computer model forecasts bring Owen down the east coast of Queensland during Saturday and Sunday.
It's still an evolving situation and it's too early to know if he would be a tropical low or remain at cyclone strength— that detail would depend on whether he tracks over water or over land.
Regardless, this has the potential to be a high-impact event with flooding, damaging to destructive winds and thunderstorms.
It's important that communities around the Gulf and in Queensland follow official Bureau warnings, stay aware of local conditions and follow the advice of local emergency services.
Stay up to date over the coming days on the Bureau's website, app, and on social media.