Record breaking rain in north Queensland as ex-Tropical Cyclone Owen crosses the east coast
16/12/2018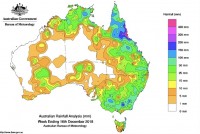 Communities between Cairns and Townsville have experienced more than half a metre of rain since yesterday (Saturday) as ex-Tropical Cyclone Owen continues to track through northern Queensland.
Halifax (near Ingham) received 681mm of rain in the 24 hours to 9am this morning 122mm of that falling in only one hour. 394mm was recorded in the six hours to 1 am today.
Halifax was one of four locations in the area to record 24 hour rainfall totals exceeding, or near, 500mm in the 24 hours to 9am today. Cardwell Range recorded 552mm, Lucinda recorded 500mm and Ingham recorded 485mm. Townsville saw 138mm, while around the Cairns area totals ranged from about 50mm to above 100mm.
The totals represent new daily rainfall records for both Halifax and Cardwell Range, while Lucinda recorded its highest rainfall total for a December day.
The huge totals were triggered by ex-Tropical Cyclone Owen reaching Queensland's east coast late yesterday after tracking across the state's north. The system made landfall approximately 70 kilometres south of Kowanyama around three o'clock Saturday morning as a severe, Category 3 tropical cyclone.
Bureau of Meteorology Weather Services Manager for Queensland Richard Wardle said Owen was still a very deep low as it crossed the coast just north of Townsville overnight. Now the system is slightly further off-shore and moving to the southeast it should start to drag the heaviest falls further out to sea over coming days.
"The heaviest falls are expected to continue easing over the next two days, however coastal communities between Mackay and the northern Wide Bay are still likely to experience heavy rain," said Dr Wardle.
The area covered by the current Flood Watch was contracted this afternoon. It now extends from Ayr to St Lawrence. Minor Flood Warnings remain in place for the lower Herbert and Bohle Rivers.
"The situation is generally improving in the state's north. There are still areas of concern we are monitoring very closely. People from Townsville down to Central Queensland need to keep up to date on the latest information and warnings as they are issued," said Jess Carey, hydrologist.
While not related to ex-Tropical Cyclone Owen, south east Queensland is also seeing significant rainfall. Totals for the 24 hours to 9am include 157mm at Pomona, 58mm at Ipswich and 91mm at Mt Nebo, with further falls continuing throughout today. Thunderstorms are expected to continue through parts of the south east today.
Full details of current Warnings and Flood Watches are available at bom.gov.au/qld/warnings.