Weather Update: heavy rainfall and flooding for northern Queensland, 3 Feb 2019
03/02/2019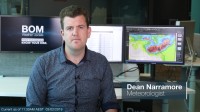 Hello from the Bureau with an update on the historic and record-breaking rain that we've seen across many parts of northern Queensland over the last few days.
It was another very wet night through many parts of northern Queensland particularly around the Townsville area, but also around the Mount Isa area as well where we saw falls of over 200mm north of there.
In Townsville the rainfall has continued where we've also broken the record for the wettest 7-days in a row on record, at 1012mm and that beats the previous record of 886mm.that was recorded on the 'Night of Noah' that week in 1998.
Now we've seen an incredible amount of rain through huge parts of Queensland over the last week including to the areas north of Mount Isa and along the east Queensland coast between Cairns and Townsville, where these black dots represent falls in excess of 400mm.
We've even seen some heavy falls north of Mount Isa as well, where the purple dots represent areas of experiencing 200-400mm in the last 7- days. As you can see it's been a very widespread area has seen very heavy falls.
Some extraordinary numbers have come in through the Townsville area, with a number of locations receiving over a metre of rain in the last 7-days particularly a number of locations to the west of Townsville, where we've seen 1.4 to 1.6 meters of rain for some locations this is approaching their yearly average in just a week.
And this rain is set to continue over the coming days which is going to further exacerbate the flooding issues that we have through many parts of Queensland.
Over the next 3-days the monsoon trough and low isn't expected to move anywhere, and we're expecting to see heavy falls continue including places like central and eastern Queensland, and in particular along the corridor between Mount Isa to Mackay extending that for Townsville.
So those along the Flinders Highway could see anywhere between 100-200mm in the coming few days. But also a particular concern is along the urban lower Burdekin in and into the Central Coast regions where it could see another 200-400mm and some locations may even be exceeding well over half a metre and getting close to a metre in the next 3-5 days.
So with all this rainfall that has occurred around the region there was a lot of flooding going on.
For the latest on the flooding stay tuned later today a for an update on the flooding forecast from a hydrologist in Queensland.
But remember if you're out and about in the next couple of days stay tuned to the latest forecast and warning to the Bureau's website and on Twitter, and also remember to listen to the advice from emergency services.