On World Meteorological Day, Australia's weather from space
23/03/2020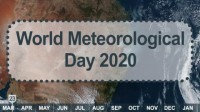 The Bureau of Meteorology has released a video condensing nine months' worth of Australian weather into just two minutes.
The video has been released to mark World Meteorological Day, stitching together nearly 300 days' worth of satellite imagery, captured by the Himawari satellite more than 35,000 kilometres above the equator.
The drought and fire that was a feature for much of the country's south and east in 2019 is clearly visible, with dramatic images of smoke drifting across the Tasman Sea emanating from the fires which devastated parts of the country.
But there was more to Australia's weather in 2019, according to Meteorologist, Diana Eadie from the Bureau's Extreme Weather Desk.
"We all know Australia is a land of weather extremes, and last year was certainly no exception," Ms Eadie said.
At the Bureau of Meteorology, we work hard to support Australians in many ways during both day to day life and extreme conditions.
"In 2019 the Bureau issued more than 700,000 public weather forecasts, but that is just the tip of the iceberg," she said.
"We also issued more than 2,000 thunderstorm warnings, 1424 flood warnings and 266 tropical cyclone warnings, as well as 994 fire weather warnings."
Each year the Bureau of Meteorology does much more than providing timely and reliable weather information to the Australian public; it also works closely with different sectors of industry to help keep their wheels turning, planes flying and ships sailing safely.
"Our marine forecasts and warnings totaled 182,000 for the year, while our aviation specialists sent out 1.9 million forecasts for use by pilots and airlines all over Australia and the surrounding region," said Diana Eadie.
You can see the year's weather for yourself at the BOM Newsroom or download it here.
World Meteorological Day is held on March 23 each year and run by the World Meteorological Organization (WMO), which is the specialised agency of the United Nations for meteorology (weather and climate), operational hydrology and related geophysical sciences.
This year's theme is centred on water: "Count every drop – every drop counts".