Bureau of Meteorology statement on COVID-19
09/04/2020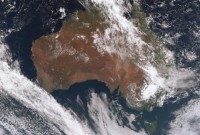 Like many organisations, the Bureau of Meteorology is actively managing its response to the COVID-19 pandemic.
Throughout this challenging time, our focus is on ensuring our critical services continue to be delivered to the Australian community and that our staff remain safe and well. All Bureau services are being delivered as normal. Should there be any impacts from COVID-19 on Bureau operations, we will focus on delivering the most critical services that protect life and property.
The community should be aware that there may be delays in restoring some services if they require our engineers and technicians to travel to address an outage. The Bureau will ensure it engages closely with those customers, partners and stakeholders who may be impacted.
The Bureau does not rely on any one system to generate its forecasts and warnings. We draw upon a broad national and international network of data sources, infrastructure, computer modelling and meteorological knowledge that allows the Bureau's meteorologists from across Australia to produce our trusted warning and forecast products.