Commemorating the Chilean tsunami of 1960 and its impact on Australia
22/05/2020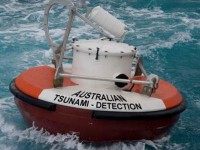 As the world faces one major threat, a dedicated team in Australia is maintaining a vigilant watch for a threat of a very different kind.
The Joint Australian Tsunami Warning Centre (JATWC) monitors tsunami activity in the waters around Australia, and this week it's marking the 60th anniversary of one of the most severe tsunamis on record.
One of the catalysts for international action on tsunami warning happened 60 years ago, when the world's largest ever recorded earthquake (9.5 magnitude) occurred in Chile, with the resulting tsunami impacting countries across the Pacific basin.
Major impacts were felt in Hawaii, the Philippines and as far away as Japan – with more than a thousand people killed – and the tsunami also affected Australia, causing damage along parts of the New South Wales coast with impacts felt as far north as Cairns and as far south as Hobart.
The tsunami even registered on tide gauges in South Australia and Western Australia.
According to Co-Director of the JATWC, Michael Logan, that event led to international cooperation on tsunami monitoring and warnings for the first time.
"The Pacific Tsunami Warning System was put in place five years after the 1960 event. Fast forward to the aftermath of the 2004 Indian Ocean tsunami and Australia led the way in establishing the first warning system in that part of the globe," Mr Logan said.
"These systems helped to prevent even greater loss of life when another quake struck near Chile in 2010, causing a tsunami which created massive local impacts, with warnings issued in 53 countries, and damage reported as far away as California, USA and Japan.
"The message from the JATWC is that tsunamis do happen, and Australia is not immune.
"That's why we maintain a network of tsunami buoys, tide gauges and satellite systems to detect tsunami as early as possible, which gives us the best opportunity to issue life-saving warnings," he said.
With such a large coastline and so much population and infrastructure located in coastal regions, Australia is ever-alert to the threat of tsunami.
The JATWC is run by the Bureau of Meteorology and Geoscience Australia, monitoring seismic activity and tsunami threat in the Pacific and Indian oceans.
BACKGROUND:
The 1960 tsunami's impacts on Australia
Affected NSW on a weekday morning at low to mid-tide, with waves up to 1.5m recorded
Penetrated upstream along estuaries up to 28km (Georges River)
Effects included mostly strong currents, sudden water level changes and land inundation at Batemans Bay.
Two injuries, reports of numerous boats that broke moorings, several sunk, breakwater and wharf damage, scouring of beaches and channels.
Main locations affected:
North Coast NSW: reports of capsized boats, trawlers washed ashore, bridge slightly damaged, fishermen reportedly ran for their lives on a beach
Mid-North Coast NSW: Port Macquarie – reports of roaring sound from the water, local netted pool destroyed, wharf destroyed, boats pulled from moorings
Newcastle: A coal ship ran aground, sudden water level changes, Stockton Ferry disrupted, 24-foot fishing boat sunk, another broke moorings
Sydney: barge carried under Spit Bridge and damaged, boats broke moorings, Clontarf Beach washed away, 800 logs washed from a sawmill at Iron Cove, punt carrying timber sunk at Glebe, person injured
Batemans Bay: local inundation, oyster leases damaged, wave travelled 14km up the estuary