50 Years of rainfall observations have been a total Blessing
18/08/2020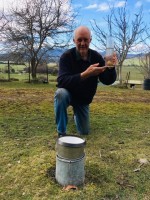 Blessington resident, Ian Dickenson, fell into the role of volunteer rainfall observer for the Bureau of Meteorology's Musselboro (Elverton) Station in September 1969 after receiving an offer he couldn't refuse.
"I purchased a farm in Blessington with the support of my family and arrived after the previous owners had left the property," Mr Dickenson said.
"I noticed there was a note left on the sink with the BOM literature advising me that this was now my job."
And from there a second calling was discovered for the life-long farmer, one which has seen him recording weather observations for the Bureau for 50 years covering some major weather events for Tasmania, including dry periods in 1985; the floods of June 2016; and recently, the heaviest snow he can remember seeing in his five decades on the farm.
The process, he says, is an easy one that sees him head out to the rain gauge in his ute, record the daily total, enter the data into his diary then onto a Bureau data sheet later that day, before posting them to the Bureau at the end of the month.
So what motivated him to do this day-after-day for 50 years?
"My father was a very generous man in respect of contributing to his community and I guess some of that must have rubbed off on me," he said.
"I believe the information provided to all of us by BOM is important especially for the primary industries; our businesses viability largely depend on what the weather dishes up, so if providing rainfall records helps in some small way, I am happy to do it.
"At age 76 there are some jobs on the farm that do become more taxing, but provided I can still get in and out of my ute to read the rain gauge, this [observing] will be one of the last jobs to go."
In recognition of his outstanding contribution, Mr Dickenson will be presented with a Bureau of Meteorology Rainfall Excellence Award at a ceremony at the Bureau's Hobart office on 18 August.
Bureau of Meteorology Manager of Hazard Preparedness and Response South, Simon McCulloch, said Mr Dickenson's commitment over the last 50 years has been essential to the Bureau.
"Our volunteer observers provide an important service that the Bureau relies on to deliver crucial weather and forecasting services across Australia, as well as strengthen our long-term understanding of Australia's climate," Mr McCulloch said.
"It's fantastic to see dedicated volunteers such as Mr Dickenson taking the time to assist the Bureau in such a manner, especially as we know these volunteer duties are on top of their full-time jobs or other personal commitments.
"I want to thank Mr Dickenson for the great work he has done for the Bureau and the Tasmanian community."