Tsunami exercise: A testing time for an ever-present danger
07/10/2020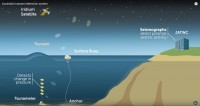 In a year full of virtual events, Australia has just survived a virtual tsunami.
The Joint Australian Tsunami Warning Centre (JATWC) spent yesterday simulating a full-scale tsunami in the Indian Ocean as part of UNESCO's Exercise Indian Ocean Wave 2020 (IOWave20) involving 23 countries, to test the tsunami warning and response chain.
The JATWC uses the combined resources of the Bureau of Meteorology and Geoscience Australia to detect and assess tsunami threat in our region, and in this exercise it was dealing with the effects of a tsunami impacting much of Australia's west coast following a massive faux M9.1 earthquake south of Java, Indonesia.
The National Earthquake Alerts Centre (NEAC), operated by Geoscience Australia, monitors earthquakes globally and alerts the Bureau of earthquakes that could generate a tsunami. The Bureau then assesses tsunami threat and issues warnings to Australia. As a Tsunami Service Provider, it also issues threat information to 27 national tsunami warning centres in the Indian Ocean.
As an integral part of the Australian tsunami warning chain, the Australian Government Crisis Coordination Centre and Western Australian Department of Fire and Emergency Services will also take part in IOWave20 by practicing their procedures and liaising with JATWC.
The Bureau of Meteorology's Co-Director of the JATWC, Michael Logan, said it was an invaluable chance to test the systems and procedures that must be effective and reliable whenever a tsunami strikes.
"While the likelihood of an event is not high, tsunami is an ever-present danger, especially for a nation with as much exposure to the coast as Australia," Mr Logan said. "Exercises like this are an important means to make sure we are ready to swing into action rapidly and effectively in the event of a tsunami heading our way," he said.
Geoscience Australia's Co-Director of the JATWC, Adrienne Moseley, said that on average the NEAC detects around 40 potentially tsunamigenic earthquakes each year.
"Geoscience Australia undertakes tsunami hazard assessments at national to local scales, collaborating with state and territory emergency services to ensure they are better prepared to mitigate tsunami impact on Australian coastal communities," Ms Moseley said.
"We know from the historic record and hazard modelling that Australia is exposed to tsunami risk from earthquake sources in our region and further afield. Many Australians are familiar with the impacts of the 2004 Indian Ocean tsunami, which devastated coastal regions of South East Asia, but may not be aware of other tsunami that have impacted our communities in living memory."
For example, the earthquake used in yesterday's scenario was based on the 1977 magnitude 8.3 earthquake near Sumbawa in Indonesia which generated tsunami with recorded impact to the Port Hedland region in Western Australia," Ms Moseley said.
Every second counts in responding to a tsunami, which is why Australia has state of the art detection systems in the Indian and Pacific oceans and a team of experts operating around the clock.
Exercises are run regularly with simulated tsunamis to ensure that all relevant agencies and emergency services are well-prepared for an actual tsunami.
The JATWC was established by the Australian government following the destructive 2004 Indian Ocean Tsunami.
It is operated jointly by the Bureau of Meteorology (Bureau) and Geoscience Australia (GA). www.bom.gov.au/tsunami/about/jatwc.shtml
-- ends