Damaging winds, thunderstorms and rain for SA
15/07/2021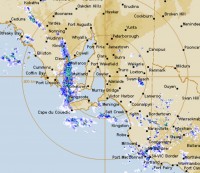 The Bureau of Meteorology has issued a Severe Weather Warning for damaging winds, gusty showers and thunderstorms over southern South Australia. Areas that may be impacted include Adelaide, Port Lincoln, Whyalla, Mount Gambier, Ceduna and Kingscote.
The Bureau of Meteorology is forecasting potentially damaging winds across parts of South Australia mostly associated with showers and thunderstorms with gusts in excess of 90 km/h. Showers and thunderstorms will also produce short bursts of heavy rainfall.
Strong west to northwesterly winds will locally reach 50-65 km/h, with gusts of around 90 km/h expected today and continuing into Friday.
For more information, please find an Audio News Release (ANR) with meteorologist, Jenny Horvat. Feel free to use excerpts of the ANR for publication or broadcast. Content includes information about;
Details of current Severe Weather Warning (21 secs)
Thursday's damaging winds (1.10)
Thursday's thunderstorms(1.35)
Thursday's rainfall (1.54)
Impact to Adelaide metro area today (2.22)
Friday's winds (2.50)
Friday's cold drop in temperature and thunderstorms (3.30)
Friday's heavy rainfall and flood watch details (4.05)
Saturday's weather (4.38)
Advice if you have camping plans (5.20)
Information about big swell (5.50)
Please listen to the audio news release here: https://collect.wetransfer.com/s0vtikch5bfz8kwe720210715023313
For all SA weather warnings and the flood watch, visit the website.