Cold and wet Thursday for parts of South Australia
21/07/2021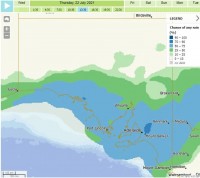 The Bureau of Meteorology is forecasting a cold and wet day for parts of South Australia on Thursday 22 July.
For more information, please find an Audio News Release (ANR) with senior meteorologist, Simon Timcke (pronounced tim-key) here: https://collect.wetransfer.com/s88tvh4tw5or34lat20210721021825
Feel free to use excerpts of the ANR for publication or broadcast. Content includes information about;
Strong winds (17 secs)
Rainfall (52 secs)
Rainfall ranges (1.27)
Cold temperatures (1.58)
Potential for snow flurries in the Flinders and Mid North (2.51)
Significant weather on the weekend (3.27)
Senior meteorologist, Simon Timcke, is urging communities to rug up ahead of cold temperatures for parts of South Australia.
"On Thursday, many places across South Australia will potentially experience their coldest day of the year, especially those areas where it will be raining. It will be reasonably cold tonight and when the rain moves in, the temperature will really struggle to rise on Thursday.
"In the early hours of Thursday morning, it's not out of the question we could see some snow flurries due to the cold air mass about the higher peaks in the Mid North and Flinders Districts.
"Thursday will be wet for parts of the state, mostly areas south of Woomera with the focus over mainly the agricultural area and far south of the pastoral districts.
"Those likely to receive showers and rain include central parts of the state in the Eyre and Yorke Peninsulas, the mid north as well as adjacent Pastoral and Flinders districts with rainfall ranging from 5-15mm.
"Strong winds will also be about north of the state on Thursday.
"Looking ahead, there will be similar conditions this weekend as there were last weekend. This weekend we are forecasting potentially damaging winds, gale winds for the waters, showers and thunderstorm and we're also looking at the potential for abnormally high tides," said Simon Timcke.
For all SA forecasts, visit the website.