Becoming windy, showery and cold for the Grand Final public holiday
23/09/2021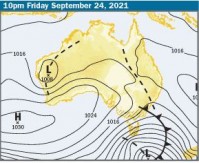 A
severe weather warning
for damaging winds has been issued which covers parts of the South West, Central, East Gippsland, North Central, North East and West and South Gippsland Forecast Districts.

For more information, an Audio News Release (ANR) with senior meteorologist Hannah Marsh is available. Feel free to use excerpts of the ANR for publication or broadcast. Content is current as at 11:30am, and includes information about:
Pleasant weather today (0:09)
Grand Final public holiday forecast for Victoria (0:30)
Chance of thunderstorms, hail and snow (1:25)
Wind information including the Severe Weather Warning (2:07)
Rainfall information including flood warnings (2:36)
Forecast for the weekend for Victoria (3:27)
Grand Final public holiday forecast for Melbourne (4:09)
Extended forecast for Melbourne (4:52)
Grand Final forecast for Perth (5:48)
Download the Audio News Release here.