Storms, rain and winds for Victoria
14/10/2021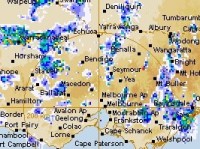 Issued: Thursday 14 October, 2021

Please find following a link to an audio interview with senior meteorologist Michael Laczko explaining the developing weather across Victoria over coming days. Feel free to use excerpts from the interview for publication or broadcast. Content is current as at midday.

0:00-0:15 - Introduction
0:16-0:43 - General weather forecast for Victoria
0:44-2:12 - More detailed forecast information
2:13-2:44 - Information about Flood Warnings and how to stay updated
2:45-end - Conclusion
Showers and thunderstorms likely statewide but the main focus is likely to be this afternoon and evening through the Gippsland area and towards the eastern Melbourne region.
During Friday and then into Saturday showers continue, mostly central and eastern districts with heavy falls possible across the Yarra and Dandenong Ranges, West Gippsland and Otways. Winds should also strengthen in the south.
Conditions easing Sunday onwards.
Please keep up to date with the latest warnings from the website.
For further media-related forecast information, please contact our Victoria Media Line on 03 9669 4965.
ENDS...