Rainfall and flooding continues across south-east Queensland
02/03/2022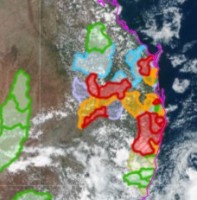 Issued: 3:11pm AEDT on Wednesday 02 March 2022
The Bureau of Meteorology's severe weather warnings for south-east Queensland remain current for the dangerous and unfolding weather and flood situation. Numerous major flood warnings are still in place in south-east Queensland.
Severe thunderstorms with large hail, damaging winds and locally heavy rainfall are likely around south-east Queensland from today. This activity will likely persist into the weekend and could lead to water rising in local creeks and streams that respond quickly to heavy, short duration rainfall.
Major flood warnings remain in place across Queensland, including the Mary River, Lower Logan River, Condamine and Balonne Rivers, Weir River and Eyre Creek.
The Lower Brisbane River has been downgraded to a moderate flood warning, however, high peaks with high tide remain possible at Brisbane city over the coming days. Another flood peak of 2.45 metres occurred mid- morning on Wednesday.
The flood warning for the Brisbane River continues to consider the releases from Wivenhoe Dam, being managed by SEQ Water.
Communities should be prepared for flood impacts and are encouraged to keep up to date with the latest forecasts and warnings on the Bureau's website and BOM Weather app, and to follow the advice of emergency services.
For more details, please visit www.bom.gov.au/qld/warnings.
ENDS