Water Storage
The Bureau of Meteorology's water storage web page allows you to compare water storage levels and volumes for more than 250 publicly owned water storages across Australia. Find out how you can discover how much water we have in our storages in each State, capital city, drainage division and major water supply system, as well as in individual storages.
The water storage web page
The Bureau's water storage web page gives you information on more than 250 publicly owned water storages across Australia. The combined capacity of these storages is 78,449,195 megalitres. In case you're wondering, a megalitre is one million litres!
The web page shows information for the past 2.5 years. You can compare water storage levels and volumes for lakes, reservoirs and weirs for all of Australia, or for the different States, territories, capital cities and river basins. You can also see how storage volumes have changed over the previous year, month, week or day.
The water storage iPhone app
Water storage information is now available in the palm of your hand. Simply download the free water storage iPhone App from the App Store.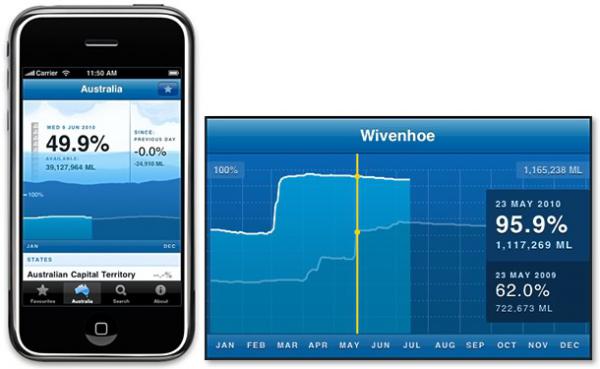 The Bureau's official water storage iPhone App. The App can be used to find out how much water is available in Australia, your capital city and in individual water storages.
Water storage trends
With all the rainfall Australia has received over the past year, water storages are generally at much higher volumes in 2011 than in 2009–10.
Since 8 August 2010, Australia's water storage has increased 23.6 per cent, from 41,964,954 megalitres to 60,449,623 megalitres. In August 2010 our storages were at 53.5 per cent capacity. A year later they are at 77.1 per cent, an increase of nearly 24 per cent.
Victoria and New South Wales have had the biggest increases, 42.6 per cent and 33.8 per cent respectively. Despite the record rainfalls in Queensland over the last 12 months, the State's water storage does not show the biggest increase, as it was at 84.4 per cent this time last year and is 96.3 per cent currently.
Although the total water storage volume in Western Australia has increased by 20.4 per cent, those storages supplying Perth are only at 19.7 per cent capacity and continue to decrease because of lower than average rainfall.
Article URLs