Weather and the Science of Settlement
There is a new weather-related book out in South Australia. It celebrates the 175th anniversary of the settlement of the state and tells something of its early history.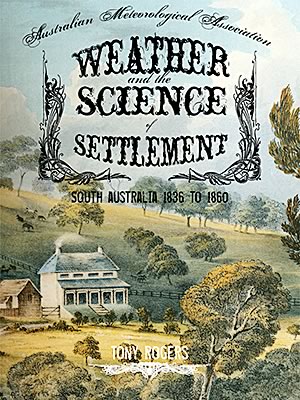 Book cover of Weather and Science Settlement, by Tony Rogers.
Weather and the Science of Settlement was published at the beginning of September 2011. It is the fourth book on the history of weather and forecasting in South Australia brought out by a volunteer history group working with the Bureau of Meteorology in Adelaide.
Weather and the Science of Settlement looks at the earliest days of settlement in the new colony of South Australia and covers the period from 1836 to 1860. Weather matters dominated every aspect of the settlers' lives even before they got here. The promoters of the colony, the South Australian Company, used the climate as a key reason why people should migrate there from Britain. There were no droughts, they said. The winter was as mild as an English summer. There was plentiful rainfall. It wasn't exactly true but they didn't care so long as it attracted settlers.
Weather and the Science of Settlement is published by the Australian Meteorological Association in association with the Bureau. It costs $30.00 and is available from book stores in South Australia and the Royal Society for the Blind. It's an easy read with lots of pictures and brings the times alive.