Explainer: what are flash floods?
Flash flooding is a significant threat across Australia. It can cause roads to become rivers, washing away cars and people. And it's not just people living near rivers who are at risk; flash floods are particularly dangerous because they can affect areas away from watercourses and happen with little or no warning. So what causes them and how can you stay safe?
---
Flash floods are floods of a short duration and a relatively high flow that occur within six hours of rain falling.
Flash flooding can be divided into two main categories:
riverine flash flooding—urban creeks and steep rural creeks in the headwaters of river catchments which rise quickly in response to heavy rainfall; and
overland flow flooding—intense heavy rainfall in any area which overwhelms the natural or urban drainage system or the ground's capacity to absorb rain.
What causes flash floods?
Flash flooding usually follows short, intense bursts of rain, such as from thunderstorms. The rain falls so quickly that it can't soak into the ground or drain away through normal channels. This can occur in any part of Australia, but is a particularly serious problem in urban areas where drainage systems may not cope, and in very small creeks and streams, which burst their banks and inundate surrounding areas.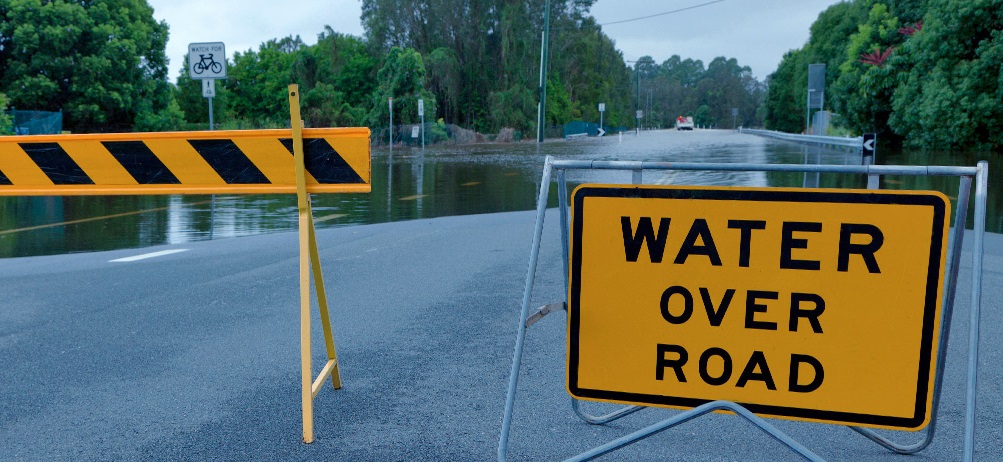 Credit: SES NSW
Why are they dangerous?
Floods are the second-highest cause of natural-hazard related deaths in Australia (after heatwaves). They caused 1859 deaths between 1900 and 2015. While statistics for flash flood deaths are not available, given their rapid onset, they are likely to have caused many of these deaths. A recent study by the Bushfire and Natural Hazards CRC has found that many flood-related deaths are avoidable, with around half involving people trying to walk or drive across a flooded road, bridge or causeway. Most fatalities also involved people trying to get home.
Most rivers in Australia flow towards the ocean, either slowly through big inland basins, like the Murray–Darling Basin, or straight out to sea, as in many coastal regions. Big rivers can take days or weeks to respond to rainfall and there is time to monitor the situation and warn communities that might be at risk. With flash floods, which can occur almost anywhere, even in desert regions like Uluru, there is less time between the rain falling and river rising so it may be harder to provide a timely warning.
Who warns you if a flash flood is on the way?
While all levels of government work together to prepare communities for flash flooding, you receive flash flood warnings from your State or Territory government disaster management agency—in partnership with local government where required.
The Bureau issues flood warnings—but not for flash floods. Our flood warnings cover larger rivers that take more than six hours to respond to rainfall. The reason they're treated differently is because the longer lead time enables a different response. We can work with our government partners to collect data, run prediction models, interpret flood mapping and determine potential consequences, as well as issue and communicate warnings. Flash floods typically happen so quickly that there isn't time to run these processes.
While the Bureau doesn't warn for flash floods, we do provide forecasts and warnings for severe weather conditions and potential heavy rainfall that can cause flash flooding. We also provide radar, weather forecasts and other data and technical expertise to assist disaster management agencies. Additionally, we work with State, Territory and local governments to help them to develop flash flood warning systems, through the Flash Flood Advisory Resource (FLARE).
Flash flood safety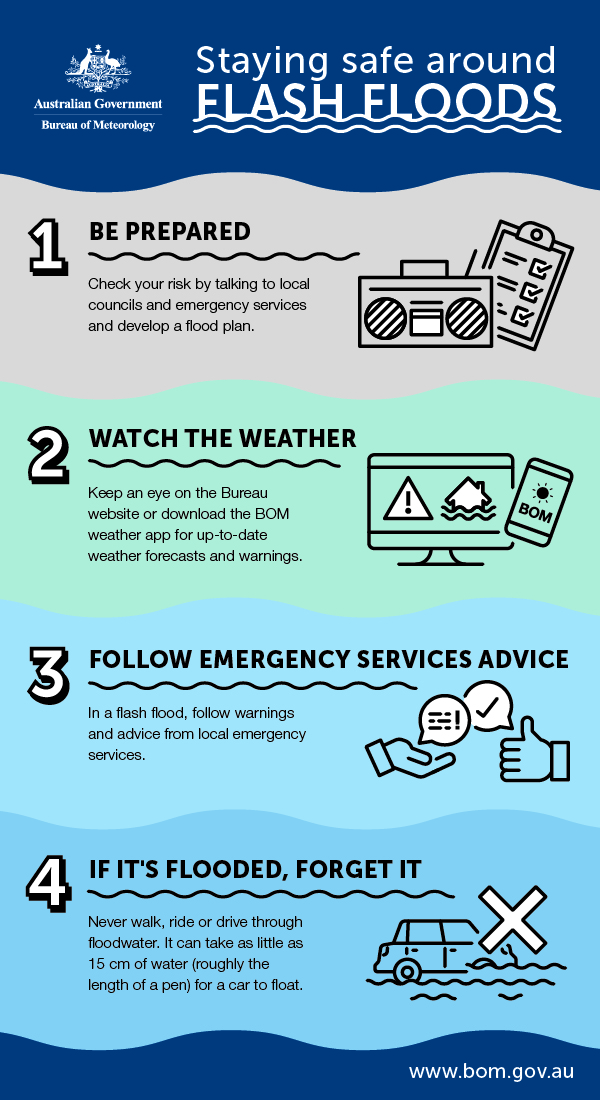 More information
Understanding floods (short video)
Understanding flood classifications (short video)