How predicting ocean temperature helps care for the Great Barrier Reef
Ocean temperature plays a very important role in the health of marine ecosystems. Warmer oceans can have devastating consequences for coral reefs and other marine life. They also put a strain on commercial fisheries and aquaculture. So, how do we warn for unusually hot ocean conditions to help marine industries better manage the impacts?
---
Warmer oceans
Australia's surrounding oceans have warmed since 1910, when compared to average ocean temperatures for 1961–90. Climate projections show that this warming trend is set to continue in coming decades. They also show that marine heatwaves are likely to happen more often and be more severe. Warmer oceans can have significant impacts, including:
mass coral bleaching
increased risk of coral and fish disease
impacts on growth rates
changes in fish distribution and migration patterns.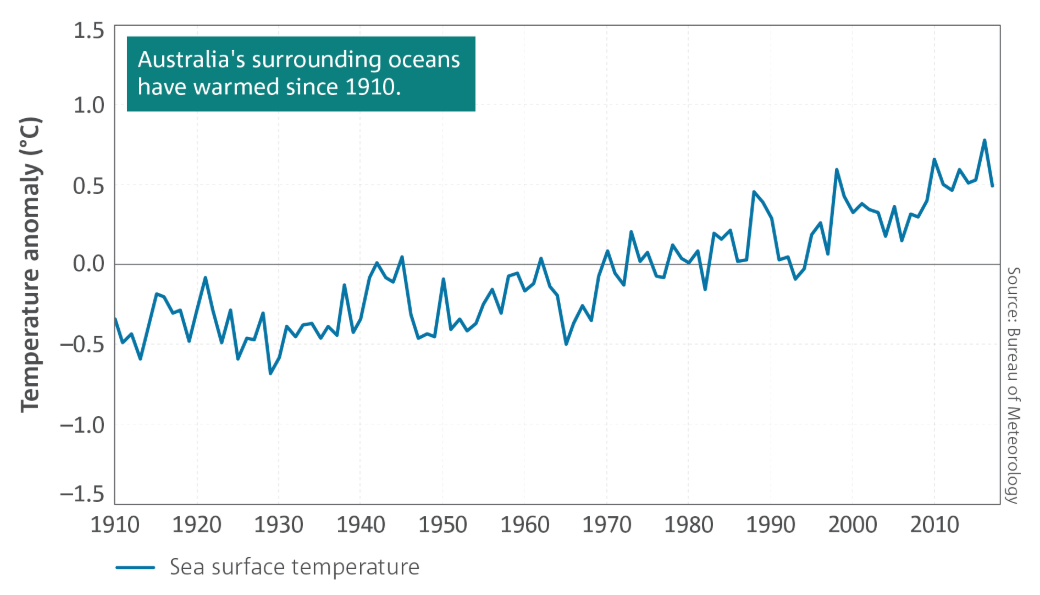 Graph: Sea surface temperature variation from average in Australia's surrounding oceans from 1910. Source: State of the Climate
Managing the impact of marine heatwaves
How can marine managers better cope with the impact of these extreme ocean warming events? Advance warning can give them an early window to take action. Forecasts of ocean temperature up to a season ahead can support decision-making, and help inform questions such as:
Where will we survey (or monitor) this summer in the marine park?
Will our fish stocks be further south this year?
Do we need extra staff to manage our fish farm this summer?
Should we harvest early this year?
We produce seasonal forecasts of sea surface temperatures and thermal stress around Australia up to six months into the future. They're used by marine industries and agencies including:
coral reef managers
fishery management authorities
salmon aquaculture producers
marine industry bodies.
Coral bleaching
High ocean temperature is the primary cause of mass coral bleaching, a stress response of corals. Most corals have tiny symbiotic algae (zooxanthellae) living in their tissues which give them their colour and the energy to grow and reproduce. Corals expel these zooxanthellae when stressed, exposing their white skeleton. The severity of coral bleaching depends on how high ocean temperatures are and for how long, as well as how often they occur.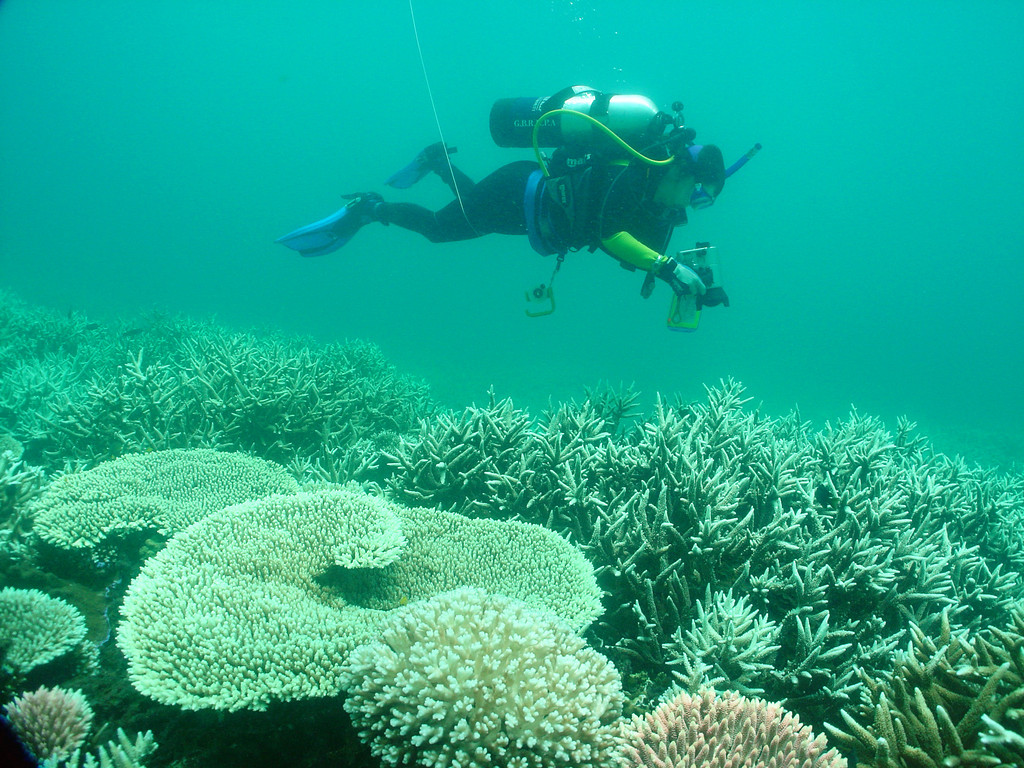 Image: Surveying bleached coral in the Great Barrier Reef. Credit: P Marshall, Commonwealth of Australia (Great Barrier Reef Marine Park Authority)
Bleaching in the Great Barrier Reef
The Great Barrier Reef Marine Park Authority (GBRMPA) has been using our seasonal sea surface temperature forecasts since 2009 to help manage the reef.
These forecasts show how much warmer or cooler than usual the ocean around the reef will be over the next six months. Thermal stress predictions show how long the ocean will be warmer than normal, which is important for coral recovery. Reef managers use this information combined with bleaching maps to determine the risk of mass bleaching in the coming summer.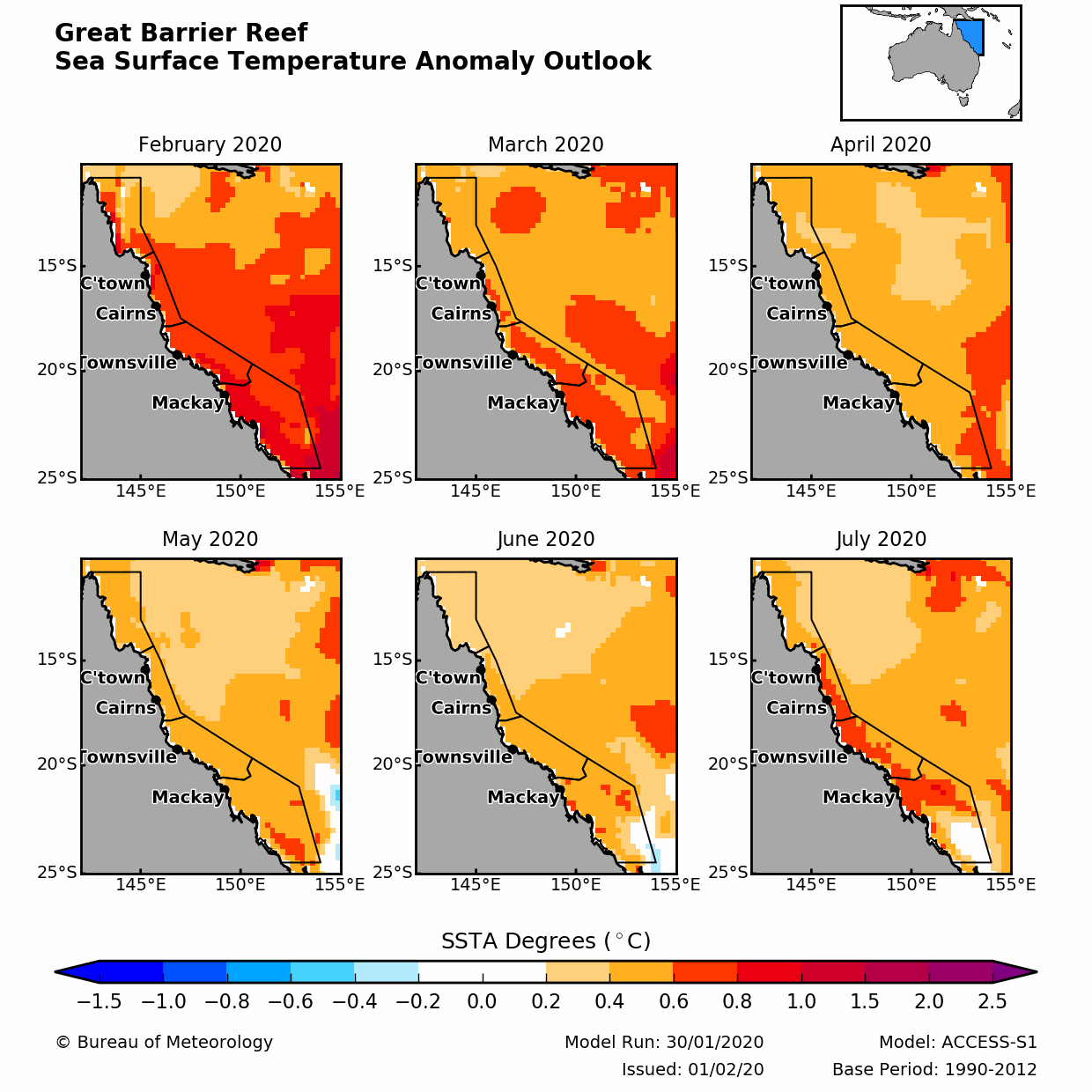 Image: Seasonal ocean outlook of sea surface temperature anomalies (difference from normal) for the Great Barrier Reef, February–July 2020 – issued 1 February 2020.
We present seasonal ocean outlooks for the coming summer at an annual pre-summer GBRMPA workshop. This allows for coordination of activities and responses with other agencies. We provide support and scientific advice to reef managers throughout the summer, particularly during mass bleaching events. Daily observed satellite sea surface temperatures over the reef are also available, allowing managers to track temperatures in near real time.
The Great Barrier Reef is as big as Italy – a huge area to look after! Reef managers use forecast information to target regions of the reef to survey for bleaching. The forecasts help them decide where to place resources such as boats and equipment and where to fly planes for aerial surveys. Advance warning of conditions that promote bleaching allows surveys before, during and after an event to gauge the full impact on reef health and watch how the bleaching evolves over time. The forecasts are also used to brief the government, tourist operators and the community.
There was mass coral bleaching on the Great Barrier Reef in 1998, 2002, 2016, 2017 and 2020. The bleaching of summer 2019–20 marked the third time in five years. February 2020 was one of the hottest months on record for sea surface temperatures on the reef. There was less cloud, lower winds and fewer tropical cyclones than usual – so an increase in calm, cloudless conditions. This led to warmer ocean temperatures across the whole reef. Our outlooks predicted warmer-than-usual ocean conditions up to a month in advance. This gave warning for GBRMPA to activate their coral bleaching response plans.
More information
Predicting ocean temperatures for reefs (webinar)
Coral bleaching on the Great Barrier Reef (GBRMPA video)
State of the Climate 2018 – Oceans
Intergovernmental Panel on Climate Change Special Report on the Ocean and Cryosphere in a Changing Climate
Chasing Coral (documentary film)
Small image at top left: The Great Barrier Reef near Cairns, taken during an aerial survey in March 2020. Credit: Terry Hughes