Cairns total solar eclipse 2012
The region around Cairns and Port Douglas will slip back into darkness shortly after sunrise on Wednesday 14 November, as far-north Queensland plays host to what many astronomers describe as "nature's most spectacular phenomenon": a total solar eclipse.
The 'totality' of the Australian eclipse, when the sun is completely obscured by the moon, will last for two minutes from around 6:38am AEST—and Cairns and Port Douglas are being touted as the best places in the world from which to view it.
For most Australians, a total eclipse of the sun is a once-in-a-lifetime event, and, for viewing, it's crucial to be prepared with accurate weather information, as well as proper eye protection.
To help you anticipate the likely viewing conditions, the Bureau of Meteorology is providing a number of products including a set of satellite images (visible, infrared and clouds/surface composite) and cloud cover forecasts.
For the latest weather forecasts, please visit:
About cloud over the North Tropical Coast
One thing that can spoil the best laid plans for viewing an eclipse is cloud. Cloud can form due to a complex interaction of moisture, temperature and uplift caused by weather systems or local topography. Types of cloud can range from low level cloud that can completely cover the sun to higher clouds that are barely noticeable.
In the Cairns region, onshore south easterly trade winds commonly bring partly cloudy conditions over the ocean and the adjacent ranges. It would rare to have a completely cloud free morning at this time of year and given the low angle of the sun in the early morning, anyone viewing the eclipse near the coast can expect periods where the sun will be behind cloud.
Based on statistics, we expect that on average in November, Cairns will have around half of the sky obscured by cloud during the early morning.
For anyone west of the ranges and Tablelands we would generally expect a reduced chance of cloud, but instead, the possibility of fog formation.
Cloud cover forecasts
Forecasting cloud is inherently difficult given the local process that can quickly change the cloud at a particular location or at a particular time. As we get closer to the event, the Bureau will provide additional information about expected cloud cover in its forecasts.
Satellite images
For updated satellite images and current cloud coverage, please visit:
Forecast eclipse
The 2012 eclipse is a significant event for Australia, as it's rare for a total solar eclipse to occur over a populated landmass.
The total eclipse will be visible across a 200-kilometre-wide strip of Queensland and the Coral Sea, before moving out over unpopulated parts of the South Pacific. Partial eclipses are expected on Norfolk Island, in northern New Zealand, and parts of central Chile.
Detailed maps and up-to-date information are available on a special NASA Eclipse Website.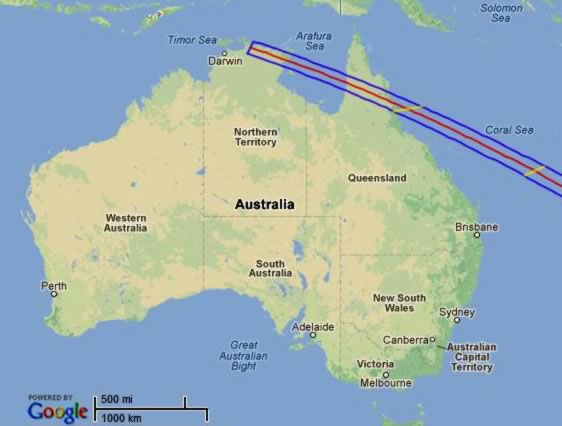 Safety first
Remember that it's unsafe to look directly into the sun at any time. However, the sun's image can safely be projected onto white card through a telescope or by building a traditional pin-hole camera.