Heavenly connections: Why HF radio still rules the sky waves
The Bureau's Space Weather Services provide a vital monitoring service for our passenger planes, defence forces and emergency services – thanks to a hundred-year-old technology that shows no sign of losing its lustre.
---
With the rapid march of mobile technology and satellite communications, it may seem incongruous to hark back to the post-war heyday of High Frequency (HF) radio. But try telling that to the employees of the Bureau of Meteorology's Space Weather Services, who still fly the flag for one of the most resilient – and certainly the most cost-effective – forms of long-distance communication the world has ever known.
Today, 67 years after its creation, Australia's Space Weather Services – or the Ionospheric Prediction Service (IPS), to give it its formal title – is renowned as a global leader in the fine art of HF radio communications, and more particularly, in their protection from the fickle world of 'space weather events'.
At the IPS offices in Sydney, a small team of highly qualified Bureau specialists keeps watch over a busy network of monitoring stations and observatories across Australia, the Pacific and Antarctica, which study changes in the space environment – and the Earth's magnetic field – that may impact on some of the country's most critical communications technology.
Their speciality is HF radio, which remains essential for the long-distance communications supporting some of Australia's most important transport and public safety sectors, from civil aviation and national defence, to the police, fire and maritime safety services.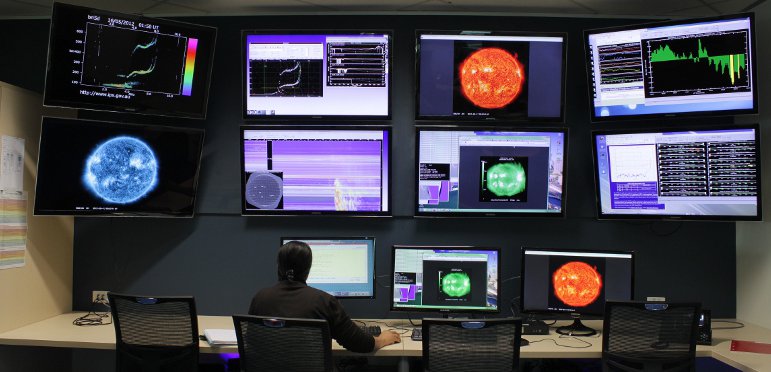 Global HF pre-eminence
Today, it is a source of immense pride for the Bureau's IPS staff that they are still considered a global leader in the monitoring of conditions that can affect HF radio transmission in the upper atmosphere.
Far from being a technological anachronism, as some people might argue, HF radio remains a vital communication tool. Modern HF radio systems include voice and digital modulation schemes for the reliable and secure transfer of encrypted data. Government, defence and private interests continue to use advanced HF radio techniques in a variety of novel ways that directly impact on the lives of ordinary Australians.
HF radio transmissions rely on the ionosphere – the region of the upper atmosphere created by solar radiation, whose layers of 'ionised' atoms enable it to refract HF radio waves (or 'shortwave bands') back to Earth. This is what enables these waves to travel vast distances, beyond the curvature of the Earth – making them vital for long-distance communication.
As well as international radio broadcasts, HF radio is used by nearly all of the world's modern military forces. All three wings of the Australian Defence Force use HF radio as a core component of their communication and surveillance systems – from specialised naval and aircraft systems, to the famous Jindalee radar network, which monitors air and sea traffic across millions of square kilometres to the north and west of Australia.
Equally critical is the role that HF radio plays in emergencies and natural disasters. There are numerous instances including the 2004 Indian Ocean tsunami, in which damaged or overloaded satellite and telephone infrastructure have meant that humanitarian and emergency missions had to make extensive use of HF radio to coordinate their response.
In civil aviation too, most airlines still use HF radio as a failsafe backup for their satellite communications. An increasing number of airlines now operate on the 'transpolar routes', which can significantly reduce flying times between east and west – but force planes to fly at latitudes where satellite communications are unreliable, and they must use HF radio instead. In addition, in some remote regions such as parts of Papua New Guinea, the mountainous terrain also means pilots must rely on HF radio during landing and take-off.
HF radio is also a vital ally on the high seas, where the Australian Maritime Safety Authority (AMSA) operates a far-reaching Global Maritime Distress and Safety System (GMDSS) communication network from two HF radio transmission stations at Wiluna and Charleville in conjunction with the Bureau of Meteorology.
These two "radio frequency quiet" stations also transmit the Bureau's marine weather HF radio services for mariners on the high seas. While vessels in inland waters can receive VHF weather reports from coastal radio stations, vessels travelling more than 30 or 40 nautical miles offshore usually rely on high seas forecasts, which are broadcast on HF radio by the Bureau every four hours – with warnings every hour in extreme weather.
Keeping the airwaves clear
The ionosphere is an unstable region of the upper atmosphere, where solar wind enhancements, geomagnetic storms, and other energy-intensive 'space weather' can create disturbances for HF radio. This is where the IPS can play a vital role, helping radio operators to reduce or even avoid the negative impacts of such weather.
Space weather events can disable, or even destroy, the electronic equipment on satellites – with devastating effects for communication, navigation, and weather forecasting on Earth. When such an event is forecast – just as with the Bureau's terrestrial forecasting – the IPS will send out a warning, which satellite operators can then use to notify their customers, or even to put a satellite into 'hibernation mode' to reduce the chance of lasting damage.
Similarly, for HF radio operators and broadcasters, IPS's warnings can provide a critical advantage by alerting them to changes in the ionosphere that may have an impact on useable frequencies and the quality of their transmissions.
So next time you are sailing to Tasmania, or flying from Sydney to Johannesburg, or embarking on any one of a thousand apparently simple journeys, spare a thought for the humble HF radio – and the 'space weather-watchers' who help us optimise its use.
More information