Western Australia gets Next Generation Forecast and Warning System
The Bureau has rolled out its Next Generation Forecast and Warning System to Western Australia.
Longer forecast periods, wider coverage
The NextGen system is a state-of-the-art, high-resolution digital system, allowing extended forecasts over wider areas. The upgraded service for WA includes:
7-day forecasts for more than 60 locations in the state (see the map below).
New forecasts for Coral Bay, Jurien Bay, Mt Barker, Denmark, Warburton, and some Perth suburbs.
For districts, the system will provide four-day forecasts with year-round fire rating information.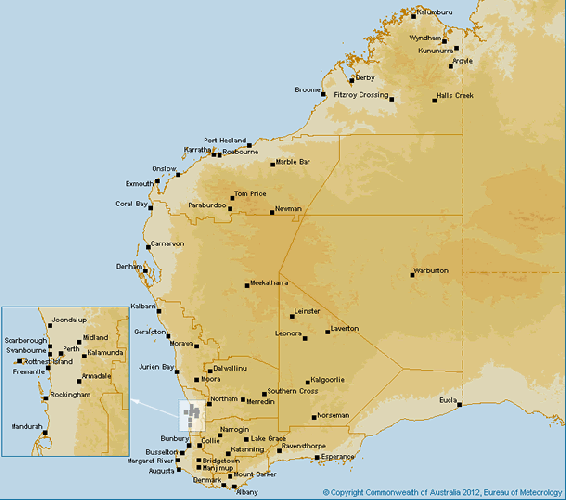 Coastal water forecasts have also been improved, with forecasts for seas and swell now going out to four days. This provides the best weather information available, helping Western Australians enjoy safer recreational fishing and boating.
Western Australia now joins four other States—South Australia, Tasmania, Victoria and New South Wales—receiving our upgraded service.
Future upgrades to weather forecasting and warnings
Queensland is set to receive the NextGen upgrades next year, and the Northern Territory in 2014.
By the time we complete the project in 2015, over 600 locations around the country will benefit from seven-day forecasts. Eventually, you should be able to get a weather forecast for just about anywhere in Australia.