Deep down under: A new season beckons for our farthest-flung forecasters
Casey Station in Antarctica may be one of the most isolated meteorological postings on Earth, but the Bureau's intrepid forecasting team rarely has a chance to get lonely or bored.
---
They are used to regular 100 km/h winds at Casey Station in Antarctica, but that didn't prepare them for the three-day howler that struck the station in late September. The hurricane-force winds were the fiercest to hit Casey in more than a decade, with gusts of up to 232 km/h tearing off doors, tipping over shipping containers, and toppling an antenna mast that had stood since the current station was built in 1988.
But it was all in a day's work for the Bureau of Meteorology's three-strong Casey winter crew. "As soon as the winds would let us stand up, we were back outside picking up the pieces," says winter met station chief, Steve Black. Top priority was re-erecting the GPS antenna that tracks the giant radiosonde balloons released twice daily from Casey, which provide vital atmospheric data to the World Meteorological Organization's Global Upper Air Network.
If the past couple of months have been a busy time at Casey, it's about to get a whole lot busier. Early November saw the arrival of the first Hercules flight from the American McMurdo base, signalling the official start of the Antarctic summer season, and nearly tripling Casey's 18-strong winter population. In the coming weeks, when the first Airbus A319 flies in, this little outpost will become a bustling residential community – home to more than 100 scientists, climatologists, conservationists, wildlife researchers, tradesmen, journalists, photographers, artists, and other transient 'guests'.
| | | | |
| --- | --- | --- | --- |
| Casey Station from afar | | | For the next three months, these intrepid expeditioners will be thrown together, working, studying, cooking, cleaning, fixing equipment, shovelling snow, playing endless board games, and conducting a huge variety of scientific projects and experiments – ranging from species-saving conservation work, to the drilling of ice cores that carry an 800,000-year record of the Earth's changing climate. |
From the moment they leave Australia, the safety of these expeditioners will owe a great deal to the team from the Bureau of Meteorology, who provide the weather forecasts and observations supporting all the scientific expeditions, the air traffic, ocean voyages and land transport to this little corner of the world's coldest, driest, windiest, emptiest continent.
A land of extremes
Casey is the northern-most Australian station on the Antarctic continent, a mere 3,430km southwest of Hobart and 3,837km south of Perth (with which it shares a winter time zone). Perched on an icy peninsula overlooking an iceberg-strewn bay on the edge of the Antarctic ice cap, it is renowned for its blizzards, giant snowdrifts and climatic extremes. Between January and June this year, the mercury travelled from 7°C to minus 32.8°C.
The extremes of Casey's famously fearsome winds have been even more impressive. Fuelled by the recent storms, the average daily wind run – a statistic measuring how far you would travel in 24 hours if you were running at the same speed as the wind – hit 1,150 km in September, the highest figure in the station's record books.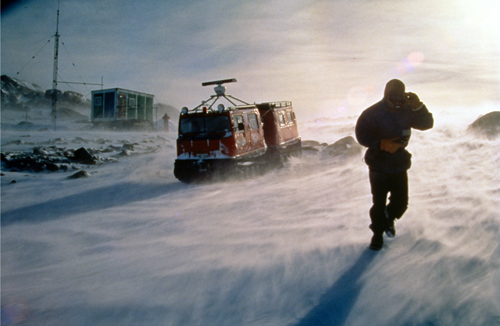 An expeditioner and transport near the refuge hut on Browning Peninsular, near

Casey

Station. Image: Sam Cleland
Flying into this windswept spot is an adventure in itself, and one the Bureau is central to safeguarding. With such vast distances from Hobart, turning around a flight because of poor visibility or landing conditions is a huge waste of time, money and carbon emissions – so the Bureau's forecasters carry a heavy burden of responsibility.
Senior forecaster Michelle Hollister is about to embark on her fifth Bureau mission to Antarctica. Michelle was on duty when the Airbus first landed on Casey's 4km ice runway (the longest runway in Australia) in December 2007, and will be the senior forecaster and Meteorological Officer in Charge at Casey this summer.
"When I first came to Antarctica, we all arrived by ship and were transferred to shore by helicopter or barge, or even on foot where there was enough sea ice," says Michelle. "It could take weeks to get to the station. These days, it can take as little as five hours to reach Wilkins from Hobart, which allows a greater number of people to transit the station for short science stints, or quick visits to fix equipment that cannot be fixed by our tradies."
A permanent eye on the weather
Unsurprisingly, much of life in Antarctica is dictated by the weather, which determines when flights can land, expeditions can depart, equipment can be fixed, construction projects can start – in fact, virtually any outside activity. "Stepping outside at Casey can be a case of taking your life in your hands, especially during a blizzard," says Michelle.
Bureau forecasters are charged with monitoring the weather over a vast swathe of ice and sea known as the Australian Antarctic Territory, which at 5.9 million km² represents some 42% of the continent – an area roughly equivalent to Queensland, New South Wales, Victoria and South Australia combined.
Recent winter crew at Casey Station

In this desolate, wind-battered domain, flights between stations in a propeller-driven Basler or Twin Otter can take a whole day. As all flights require a 'landing window' – without snow, fog, heavy cloud or strong winds – of about four hours, accurate location forecasts are absolutely critical to flight safety.

This summer, there will be five Bureau forecasters stationed at Australia's Casey and Davis stations for the first half of the season – the largest number ever – together with and supported by a three person team consisting of weather observers and a technical officer at each station.

With the unpredictable nature of the weather, it can take a dozen forecasts to land a single aircraft – and with some 150 flights scheduled over the summer (as well as unscheduled flights for repairs or emergencies), the Bureau's staff will have their work cut out.

"Whenever there's an aircraft in the sky, our forecaster will be at their desk and the observers at their posts to ensure that all operations are as safe as possible," says Michelle.
In addition, the Bureau's forecasters supply bespoke forecasts for a huge range of vessels – from giant icebreakers to the inflatable dinghies used by wildlife researchers – as well as ice-capable vehicles that 'drive' up the Antarctic Plateau to undertake various scientific and climate-related projects.
A 'hotel on ice'
Life at Casey Station is remarkably comfortable, with private bedrooms, hot (if restricted) showers, and a huge variety of pastimes, from a bar with home-brewed beer, to a gym and climbing wall, a photographic dark room, a small cinema, and a well-stocked library. As you'd expect, everyone helps out with the cleaning, the vacuuming, shovelling snow, and assisting the chef in the kitchen.
When he's not compiling weather records, Steve Black is also Casey's fire chief, brewmaster, hairdresser, doctor's assistant, and occasional dentist. (He recently put in a temporary filling for the station doctor.) Other members of the Bureau team currently serve on the fire team, as station librarian, gym manager, environmental officer and hydroponic gardener (Australia is the only nationality in Antarctica with the authority to grow its own vegetables.)
But ultimately, the Bureau's role is all about monitoring and interpreting the weather. Casey's year-round observations and upper air programs both feed into significant regional climate monitoring efforts. The weather balloons released at Casey and Davis deliver vital temperature, air pressure and wind speed data directly to the Global Upper Air Network (GUAN). Because they use slightly larger balloons, the GUAN stations' radiosondes can travel to heights of above 30km – providing rare stratospheric inputs for global weather prediction models.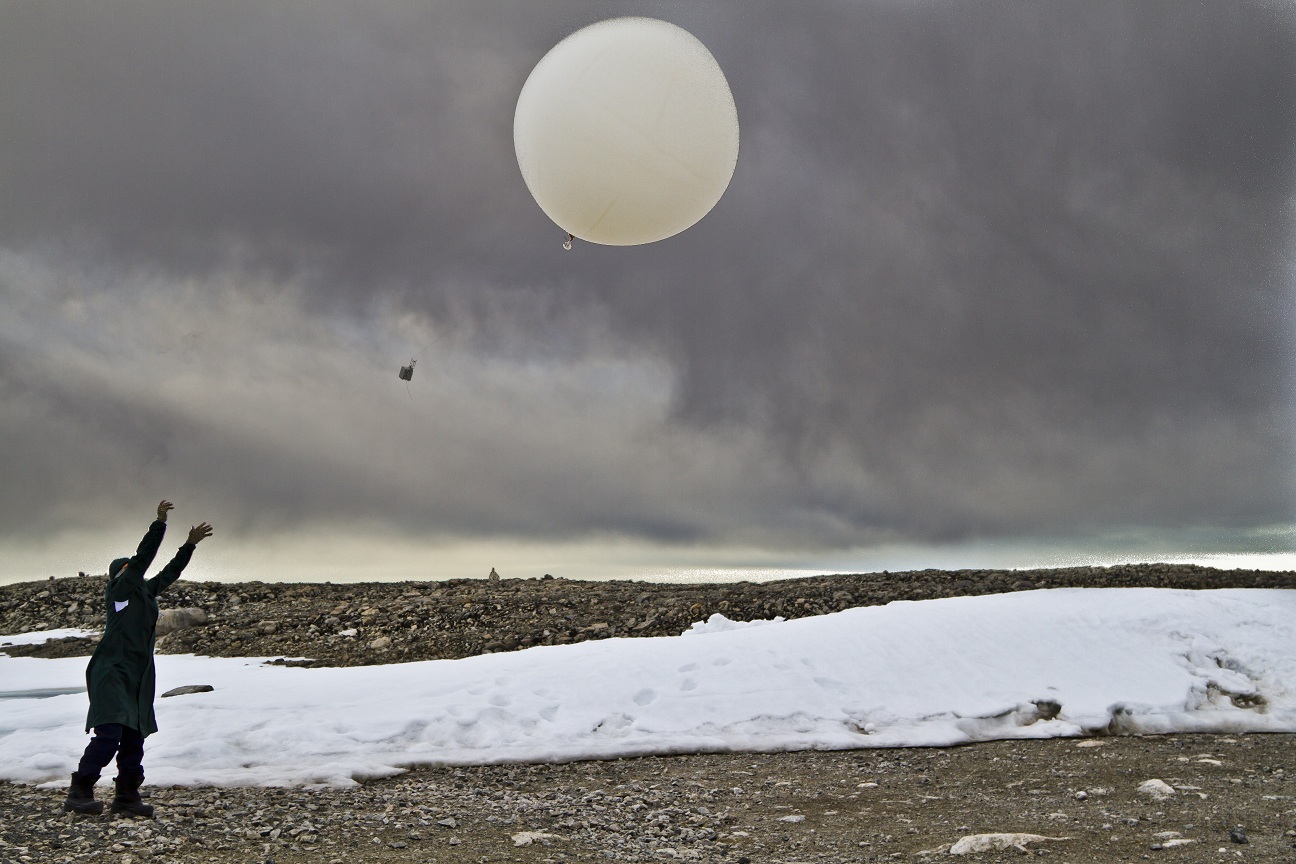 Balloon release from Casey. Image: Michael Salinas
Of course, working in Antarctica is not all fun and games; it can be strenuous, exhausting, and downright capricious. "You certainly learn to expect the unexpected," says Michelle. "We call it the A-factor, which basically means no matter how well prepared you are, at some point something will go awry. Those of us with experience always expect the A-factor – but we're often still surprised when it occurs!"
Yet working here gets deep inside you, and strikes an elemental chord. Those who have been on multiple missions say there's nowhere quite like it – and they invariably feel blessed to be here. "Sometimes when I'm walking to work," says Steve, "I look out over the icebergs and the sea ice and I just stop and think, 'Wow… I'm in Antarctica!' It really is an incredibly beautiful place, which touches you in a very special and unique way."
More information