Tackling climate variability in the Pacific
With their geographical isolation and exposure to climatic extremes, Pacific Island communities have always kept a close eye on the seasons. Traditional 'forecasters' have successfully used everything from the harvests of fruit trees to the behaviour of birds and insects to predict looming droughts, rains and cyclones, and to adapt their farming schedules accordingly. Today, this ancient wisdom can be put to ever more practical use when combined with modern meteorological science.
---
The Bureau has partnered with National Meteorological Services in 14 Pacific countries to enhance understanding and adaptability to seasonal climate variability and change through the Climate and Ocean Support Program in the Pacific (COSPPac).
Funded by AusAID until June 2016, the program has three components which aim to strengthen national seasonal prediction capacities through the development of new scientific tools, the delivery of climate services training, and the rollout of a regional network of instruments to record sea-level variations.
Traditional knowledge
A series of pilot projects under COSPPac are investigating how traditional observations of animal behaviour, plant flowering and fruiting, star and wind patterns can be incorporated into local forecasts and seasonal climate outlooks. Many indigenous communities around the world read these signs in their environment to make predictions about the weather and climate.
The aim is to support Pacific National Meteorological Services to collect enough data to combine these natural observations with contemporary scientific knowledge in the development of more robust holistic seasonal forecast tools. Four Pacific nations are involved in this initiative, which aims to develop a comprehensive database of traditional knowledge for their countries.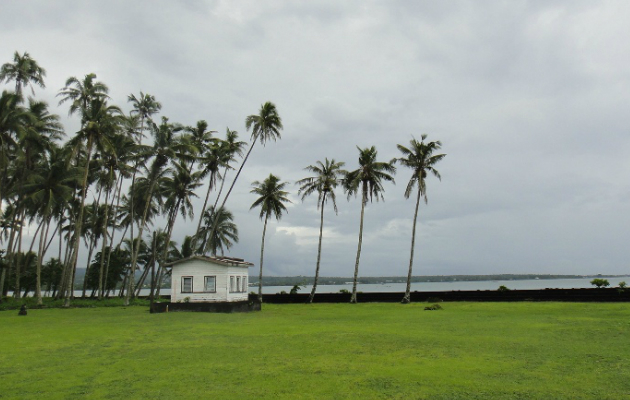 View from the offices of the Samoa Meteorological Division in Apia.
Malaria early warning system
Through COSPPac, Bureau staff are working with the Solomon Islands Meteorological Service to research the links between climate and malaria, in order to develop a reliable malaria early warning system. Studies show that mosquito outbreaks are more prevalent in drier than normal malaria seasons, when reduced stream-flows create more stagnant water and thus more mosquito habitats.
Malaria is one of the leading causes of death in the western Pacific, and the warning system will help communities here become more resilient in their efforts to combat the disease. Once developed, it may be possible to replicate the warning system in other Pacific Island countries.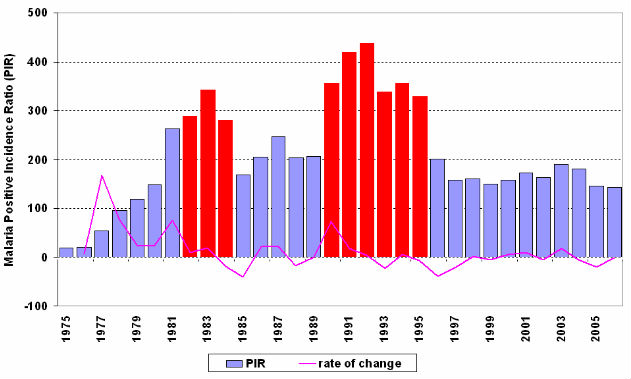 Graph showing annual malaria incidence in the Solomon Islands from 1975-2006.
National and regional partners
COSPPac's key partner agencies are the National Meteorological Services in 14 Pacific countries:
Solomon Islands
Samoa
Kiribati
Tonga
Niue
Tuvalu
Fiji
Vanuatu
Cook Islands
Papua New Guinea
Marshall Islands
Federated States of Micronesia
Palau
Nauru.
The program is also closely coordinated with the Secretariat of the Pacific Community's (SPC) Applied Geoscience and Technology Division and the Secretariat of the Pacific Regional Environment Programme (SPREP)—two organisations charged with driving the region's strategic response to climate change and disaster risk management.
Stay tuned
With the Pacific Islands' exposure to impacts from extreme weather and climate events, COSPPac will play a growing role in helping the region's meteorological agencies to strengthen their knowledge and capabilities on climate variations and change.
Look out for future Bureau articles and updates about the program as it continues its vital work.