MetEye: now available across all of Australia
The addition of Northern Territory onto the Bureau of Meteorology's MetEye mapping tool last week marks the end of a five-year mission to deliver seven-day weather forecasts to all Australians.
---
Australians anywhere can view maps of seven-day weather forecasts, following completion of the nationwide rollout of the Bureau's Next Generation Forecast and Warning System.
The MetEye mapping tool allows people to view the data behind the general weather forecasts in greater detail. The forecast maps are created by the Bureau's meteorologists who use sophisticated tools and techniques to refine forecasts for local conditions.
As well as simple overviews of the day's forecast, you can 'pick and choose' from a host of detailed meteorological data – from three-hourly temperature and rainfall parameters, to wind, humidity, significant weather events, and nautical features such as wave heights and sea surface temperatures.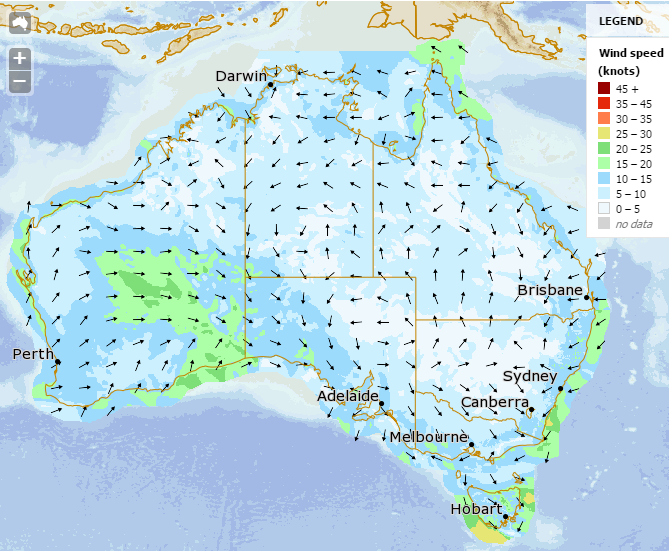 With the same intuitive logic as the best online mapping tools, MetEye lets you pan and zoom to specific locations, save your favourite locations and play animations of unfolding weather events.
MetEye also includes a number of practical features for people planning holiday excursions or outdoor activities, such as the 'feels like' temperature (what it actually feels like, taking account of the humidity or wind chill), and the 'chance of any rain' and likely rainfall amounts.
Earlier this year, the system technologies behind MetEye were recognised with the 2014 Geospatial World Technology Innovation Award (Meteorology), the Asia-Pacific Spatial Excellence Award for Technical Excellence, and the J K Barrie Award–the most significant award within the Australian and New Zealand spatial industry.