Bureau wins awards
We've won a range of major awards over the last year for our scientific excellence, innovation in forecasting systems, a national inventory of groundwater dependent ecosystems, work health and safety, and a world-class publication.
We're also celebrating individual efforts across research, forecasting and scientific innovation.
---
2013 CSIRO Medal for Science Excellence
On 14 October, Bureau and CSIRO scientists from the Centre for Australian Weather Climate Research (CAWCR) won the prestigious 2013 CSIRO Medal for Science Excellence for their development of the Australian Community Climate and Earth System Simulator (ACCESS).
This award recognises the outstanding and sustained teamwork in building this world-class weather and climate simulation capability.
The development of the model which formed the basis of Australia's contribution to the Intergovernmental Panel on Climate Change (IPCC) Fifth Assessment Report (AR5), was also recognised with this award.
ACCESS has proven to be among the world-leading models involved in these climate activities.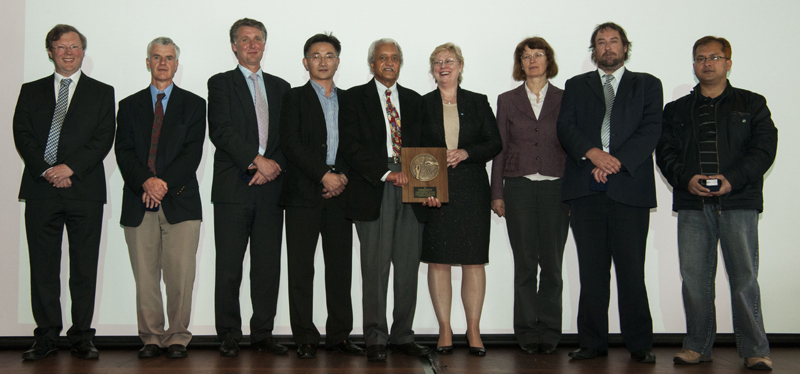 From left to right: Members of the ACCESS team proudly receiving the 2013 CSIRO Medal for Science Excellence; Tony Hirst (CSIRO), Martin Dix (CSIRO), Peter Steinle (Bureau), David Bi (CSIRO), Kamal Puri (CAWCR Research Program leader, Bureau), Megan Clark (CEO CSIRO), Eva Kowalczyk (CSIRO), Simon Marsland (CSIRO) and Harun Rashid (Bureau).
Traditional Knowledge Project
Our Climate and Oceans Support Program for the Pacific (COSPPac) team were awarded at the Greenhouse 2013 Conference for work they presented on the Traditional Knowledge project with the Samoa Meteorological Service.
We have partnered with Samoa Meteorological Service on one of four pilot projects where traditional weather knowledge from communities is collated, verified and used to make seasonal forecasts more accessible and useful to community members.
COSPPac sponsored nine participants from Pacific Islands (Cook Islands, Fiji, Vanuatu, Tonga, the Solomon Islands, Samoa, Kiribati, Papua New Guinea, Niue) to participate in the Greenhouse 2013 Conference, and collaborated with participants on a number of science posters and presentations.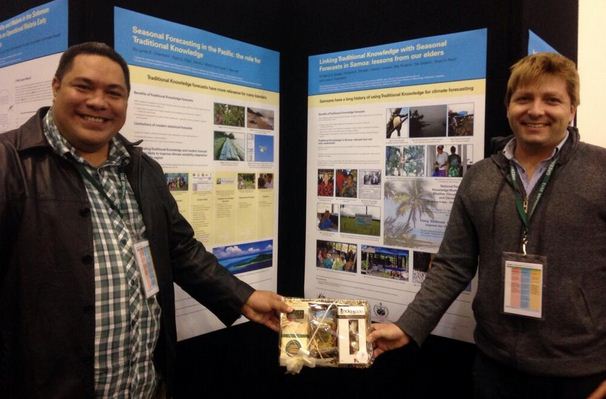 Sunny Seuseu (Samoa Meteorological Service) and Roan Plotz (Bureau's COSPPac's Traditional Knowledge Scientist) with the poster, "Linking Traditional knowledge with seasonal forecasts: lessons from our elders".
Winner in the prestigious World Calendar Awards
With sales numbers leaping over 58 000, our weather calendar continues to be one of Australia's best-selling calendars—distributed to over 80 countries, from Uganda to Siberia.
Here are a few record-breaking achievements over the past few years:
2013 Gold Best Color Separations – Calendar Marketing Association, Wheaton, Chicago, USA;
2013 Bronze Best Scenic/Other Photography – Calendar Marketing Association, Wheaton, Chicago, USA;
2012 Gold Best Scenic/Other Photography – Calendar Marketing Association, Wheaton, Chicago, USA;
2012 Best In Show - Wheaton Chicago – Calendar Marketing Association, Wheaton, Chicago, USA;
2012 Gold Best Color Separations – Calendar Marketing Association, Wheaton, Chicago, USA; and
2011 Silver PICA Victoria Award – Melbourne Australia.
The 2014 official Bureau calendar will be on sale from 6 November 2013. It's the 30th Anniversary edition, and we're keeping our fingers crossed that it might just surpass the slew of awards won by the 2013 edition!

Innovation in forecasting systems
The Bureau has received an array of awards and recognition for our Next Generation Forecasts and Warning System and interactive weather resource MetEye.
Our achievements include:
The MetEye point and click interface allows users to access detailed seven-day forecast information for any location over land and coastal waters (Queensland forecasts should become available on MetEye in early 2014, followed by the Northern Territory in 2015).

Bureau staff proudly receives the 2013 Victorian Spatial Excellence Award for technical excellence. Back Row: Terry Hart, Nigel Whitehead, Alasdair Hainsworth, Andrew Donaldson. Front Row: Harry Kontos, Kathleen Hirst, Howard Jacobs and Elena Stiles.
Striking gold
The Bureau has come up trumps in the 2013 Australasian Reporting Awards receiving a Gold Award for its 2011–12 report. In existence for more than 60 years, the awards aim to improve the standards of business and financial reporting in Australasian region.
A continued focus on improvement in the development of the Bureau's Annual Report has taken the Bureau's entry from nothing a few years ago, to Bronze in 2011, Silver in 2012's awards and finally to Gold.
The Gold Award was accepted by the Director of Meteorology, Dr Rob Vertessy at an awards ceremony on 6 June.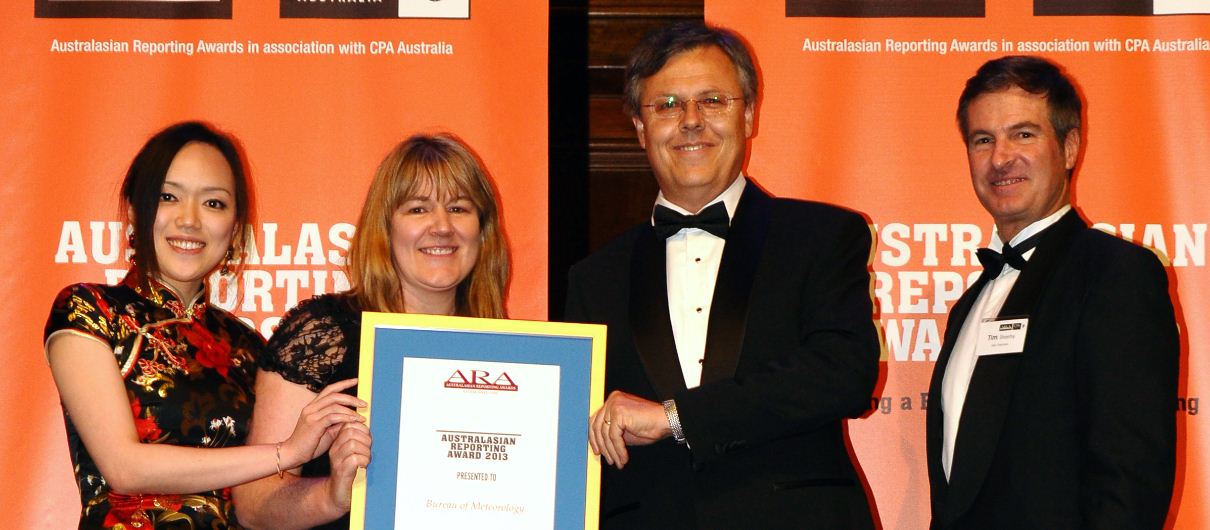 From left to right: Bureau representatives Grace Hsu, Joanne Cameron, and the Director of Meteorology Dr Rob Vertessy accepting a Gold Award at the 2013 Australasian Reporting Awards from Awards Chairman, Tim Sheehy.
Innovative iAward winner
In collaboration with CSIRO's ICT Centre, we were awarded the 'Government' category in the 2013 ACT iAwards, held in June. We later received a Merit Award at the national awards in August.
The awards are for a project undertaken as part of the National Plan for Environmental Information Initiative, for publishing ACORN-SAT as 'linked data' under lab.environment.data.gov.au. Providing access to Australian climate and temperature records around Australia, this was the first time Australian government has published linked data under data.gov.au.
The project, which led to the formation of the Australian Government Linked Data Working Group, also won the 'Best Paper' award at the 2012 International Semantic Web Conference.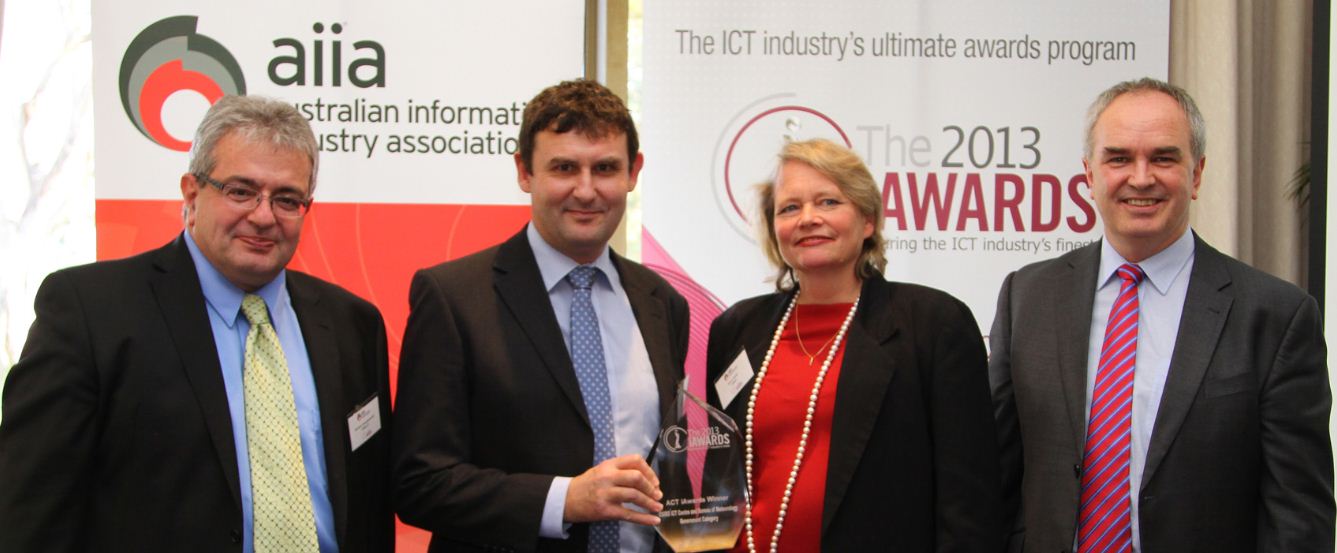 From left to right: Dimitrios Georgakopoulos (Director, CSIRO ICT Centre), Andrew Woolf (Bureau of Meteorology), Kerry Taylor (CSIRO ICT Centre), Glenn Archer (Australian Government Chief Information Officer).
Groundwater Dependent Ecosystems Atlas wins global award
Our Atlas of Groundwater Dependent Ecosystems has won the 2013 Geospatial World Excellence Award for Environment Protection, Monitoring and Management.
The atlas is the first national inventory of the location and characteristics of groundwater dependent ecosystems in Australia and aims to assist the management of these important ecosystems.
It was developed by the National Water Commission, SKM, CSIRO, Cogha and the Bureau of Meteorology, with input from each State and Territory, as part of the National Water Commission's National Groundwater Action Plan.


National Emergency Medal
We're very proud of specialist fire weather forecaster, Claire Yeo, for the great service, dedication and support she provided during the 2009 Black Saturday Bushfires.
Claire was awarded a National Emergency Medal by the Governor General, Her Excellency Ms Quentin Bryce AC, for her service in response to a nationally-significant emergency. She was nominated by the Fire Chiefs in the Victorian Department of Sustainability and Environment (now called the Department of Environment and Primary Industries, DEPI) and the Country Fire Association (CFA).
The award demonstrates the importance and impact of clear and concise communication, and the value our forecasters add when delivering Bureau forecasts.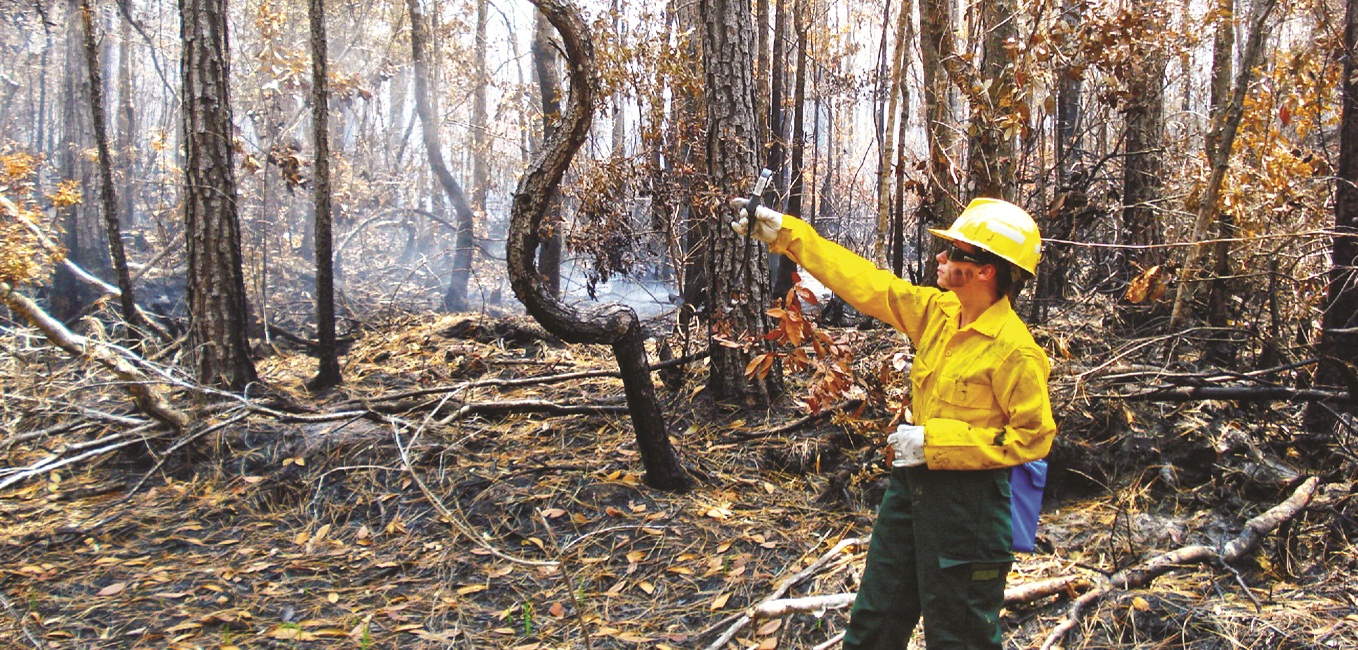 Claire Yeo taking observations such as wind speed at a fire site in the US state of Georgia in 2007 during an exchange program with the National Weather Service.
2012 Comcare Work Health and Safety Award
We received a highly commended award for a Best Solution to an Identified Workplace Health and Safety Issue in the 2012 Comcare Work Health and Safety Awards, for developing the solution for Hydrogen Hazard Management. This initiative has helped to create a safer and healthier workplace.
Over several decades, the Bureau has dedicated significant resources and effort to research and re-engineer its processes for the use of hydrogen gas, to ensure the safety of staff and the public. The Bureau considered options for the manufacture and supply of hydrogen; its distribution and storage; inflation; and the release of weather balloons.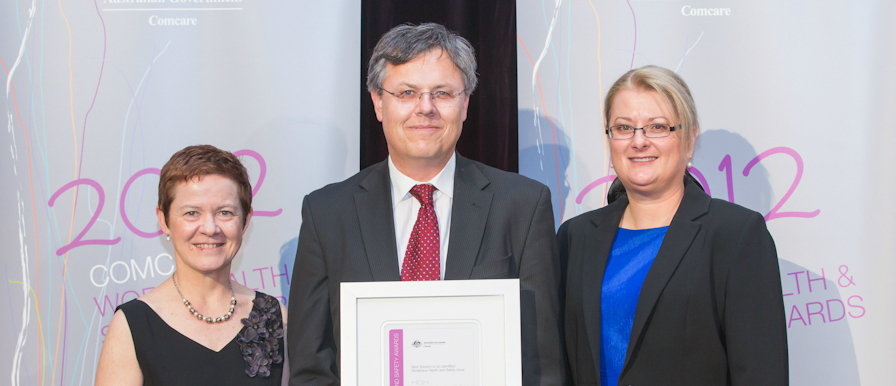 From left to right: Bureau representatives Dr Sue Barrell, Director of Meteorology Dr Rob Vertessy and Sue Allen proudly accept the highly commended award.
2012 Christopher Taylor Award
Noel Davidson was presented with the Christopher Taylor Award for Contributions to Operational Forecasting at the 2013 Australian Meteorological and Oceanographic Society Conference.
The award, which is open to professional meteorologists for contributions to operational forecasting, commemorates the life and work of Christopher Taylor—a Bureau analyst and forecaster who died in 1988.
Noel and Chris joined the Bureau on the same day in 1975 and became close friends as well as professional colleagues. It was a great honour for Noel to receive the award for his contributions to Tropical Meteorology, beginning almost in its infancy in Australia, through to current operational numerical forecasting and diagnosis of Tropical Cyclone behaviour.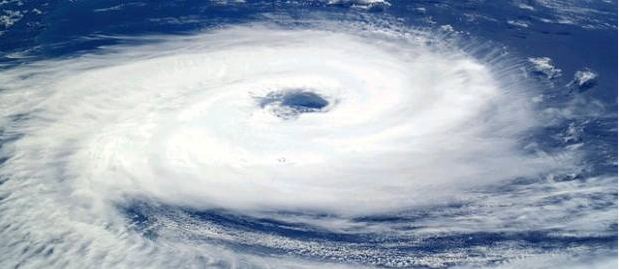 Tropical cyclone
Churchill Fellowship
South Australian supervising meteorologist John Nairn, was awarded a Churchill Fellowship to assess strategies for reducing the health and business impacts of severe and extreme heatwaves in Europe and the USA. His report can be found at here.
The UK Met Office will now use this method for identifying heatwave intensity in the UK's weather modelling system in time for their 2014 summer.
The Bureau of Meteorology is planning to implement a National Heatwave Warning Service using this research in 2014. John's work has contributed to The Centre for Australian Weather and Climate Research
Technical Report 'Defining heatwaves: heatwave defined as a heat impact event servicing all community and business sectors in Australia'.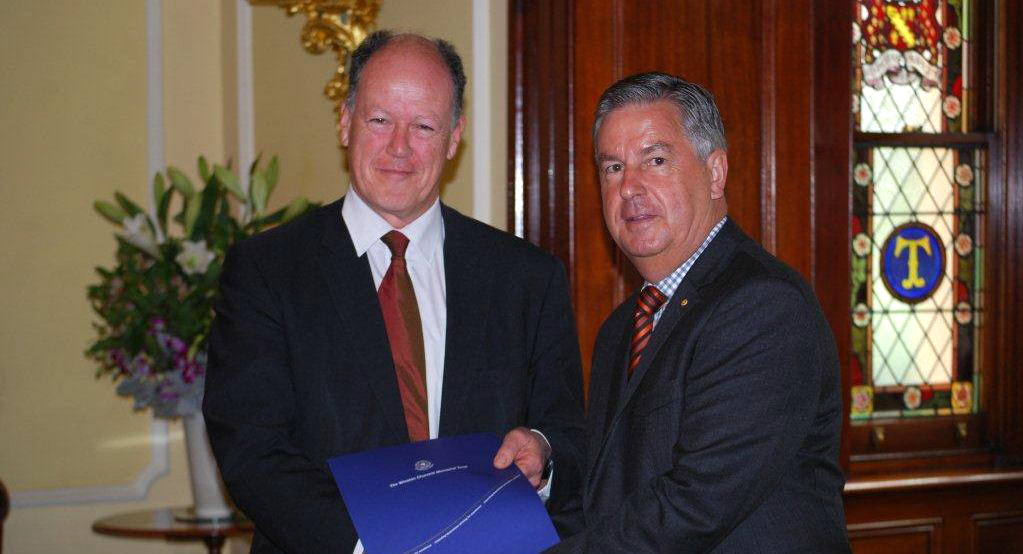 Meteorologist, John Nairn, receiving the Churchill Fellowship award from the Governor of South Australia His Excellency Rear Admiral Kevin Scarce AC CSC RANR
Early Career Researcher Awards

Mika Peace recently made the finals of the prestigious Cooperative Research Centres Association (CRCA) early career researcher awards.
Recognised for her work in the Bushfire CRC, Mika has been researching the effects of three-dimensional atmospheric structures on fire behaviour. Mika was one of six finalists in a field of 51 very talented aspirants.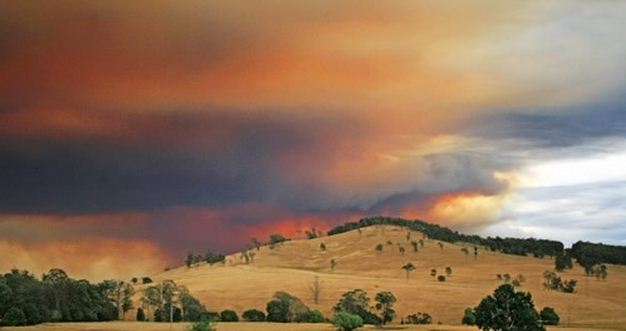 Pyrocumulus cloud and smoke associated with bushfire weather