New Marine Forecast Explorer
Mariners and beach goers will now be able to use an exciting new tool to view highly detailed forecast maps from the Bureau of Meteorology. Launched on 27 July, the marine component of the Forecast Explorer™ has been designed specifically for mariners, and includes forecasts for the next four days of combined sea and swell heights and wind speeds in knots.
The forecast maps are available for each section of the coast providing more localised information. Compared to the existing coastal waters forecasts, the marine forecast maps provide additional detail about expected conditions during each forecast period.
The maps display the forecasts covering the area between the coastline and 60 nautical miles from the coast. Mariners will be able to see when the wind is stronger off the coast compared to inshore areas making it easier to determine the safest areas to go boating.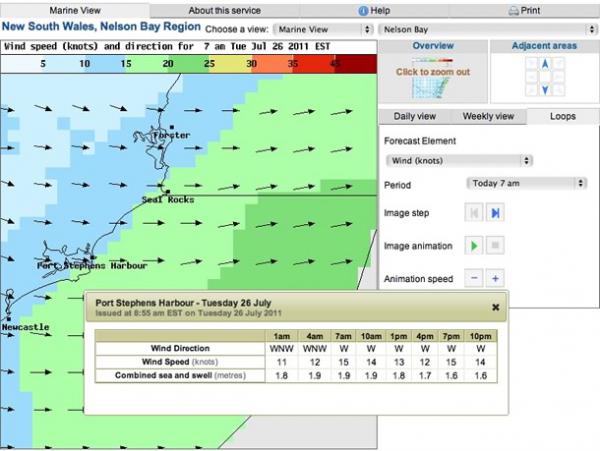 The point and click interactivity of the Forecast Explorer™ allows mariners to switch between the different forecast elements of winds, waves and weather throughout the day. In addition, mariners can get a specific forecast for any 6 km by 6 km grid in the coast waters area.
During the design process, Bureau staff listened to how mariners chose the best locations to fish. The key criterion was the wind direction and at what time the wind speed was going to increase. As a result, a feature was introduced to display the wind speed and direction at three- hourly intervals for any location selected on the map.
To enhance the safety and comfort of mariners and their passengers whilst on the water, heights of the combined sea and swell are added to the display. Mariners will be able to see the corresponding wind speed to determine the roughness of the ocean surface.
For each location selected, latitude and longitude coordinates are provided to assist mariners to compare the forecast based on their vessel position.
The forecast maps are created using the experience of Bureau of Meteorology forecasters, as well as the latest forecasting techniques and science.
Article URLs
Try out the new marine views on Forecast Explorer™ for NSW and VIC.