Bureau diggers: remembering staff who served in First World War
More than a third of eligible staff in Australia's fledgling weather bureau volunteered for military service in First World War.

---
Between April 1915 and March 1918, 18 men from the Commonwealth Meteorological Bureau traded their thermometers and theodolites for rifles and gas-masks in service of King and Country. Seven more volunteered but were rejected. The Bureau had only just commenced operations in 1908, and had 63 staff.
Thanks to research by former servicemen and now Bureau staff members, Jason Balhorn and Keith Day, with support from volunteer military historian Alan Bennett, we now know much more about those who left Australia to serve in the First World War.
Remarkable stories
Despite their precarious position on the frontline, all but one of the 18 servicemen returned alive to Australia. Eight were wounded by gunfire, gas or bomb blasts; one lost his brother, one received the Military Medal, one received the Meritorious Medal, one was court-martialled, and one deserted.
The Bureau's single fatality was Second Lieutenant Leslie Mullett, who left Australia at the age of 23 in October 1916 and went straight to the Front, where he was killed in action just six months later. Today, he is commemorated at the Australian National Memorial at Villers–Bretonneux, with 10 884 other Australians who lost their lives in France and have no known graves.
Lieutenant Ernest Forbes was recommended for both the Military Medal and France's Médaille Militairefor his gallantry in the trenches, was wounded in action twice, and was then court-martialled for striking his superior officer shortly before his return to Australia in August 1918. His service records suggest he knocked his commanding officer's hat off and then, when the officer protested, he picked him up and threw him to the ground. Forbes' actions cost him a 'severe reprimand' and 37 days' pay.
Lieutenant Arthur Tulloch, after rising through the ranks from Private, distinguished himself by single-handedly attacking three German soldiers, taking one of them prisoner, and then 'bringing him in' under nightfall across treacherous terrain. After receiving the Military Medal, he remained in the Army—going on to serve in World War II until he retired from service in 1941.
The deserter, Private James Cunningham, is perhaps the least fairly remembered of all. After serving in the Royal Australian Navy for two years from February 1915, he deserted—only to return to the war as a private in the Army ten months later. Try as he might, he could never get his desertion expunged from his service record.
Two of the servicemen who returned to the Bureau went on to become regional managers, and one—Edward 'Tim' Timcke—became the agency's Director 1950–1955.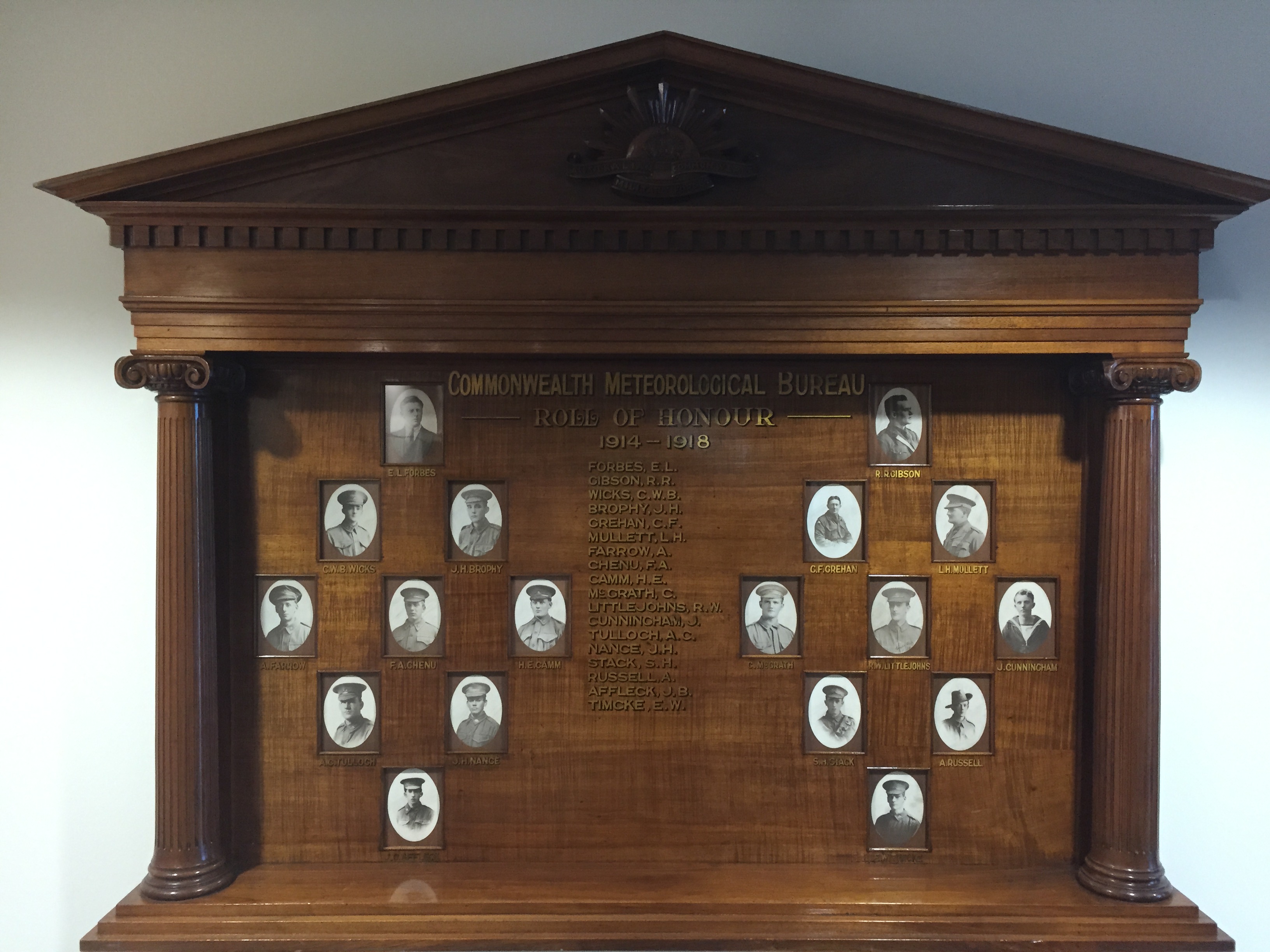 A lasting memorial
In April 2015, a 'roll of honour' board commemorating the 18 staff who served in First World War was installed in the Bureau of Meteorology's head office at 700 Collins Street, Melbourne. The board dates back to July 1917—more than a year before the end of the war. It was unveiled by then Federal Minister for Home Territories, Patrick Glynn, as a reminder of the Bureau's serving staff, rather than as a tribute to those who had passed. Unusually for honour rolls of the time, the wooden board features both names and photos of the servicemen.
Since then the Honour Board has spent much of its life in storage, as the Bureau moved offices around Melbourne. In recent decades it has been proudly cared for by Bureau warehouse staff who did their best to protect it from the effects of dust and constantly changing temperatures. Late last year it was moved to the University of Melbourne where conservators gave it a careful clean, and restored the few damaged photos and surrounds, allowing it to be reinstalled in time for the commemoration of the ANZAC centenary.
Thanks to all these efforts spanning almost a century, the commitment of those early Bureau members will be remembered for many years to come.
Lest we forget.