The weather women: how a group of pioneers brought equality to Australian meteorology
It is hard to believe that it is only 50 years since the first significant group of women meteorologists were qualified by the Bureau—and Australia's first female forecasters began their careers.
---
Fifty years ago this week, seven young forecasters made history when they graduated from the Bureau of Meteorology's Central Training School in Melbourne. There was little to set them apart in the group of smiling young professionals who qualified from the Bureau's 'Met course' on 30 April 1965, but for one important fact: they were women.
The seven pioneers were not the first women to become professional meteorologists in Australia—that honour had fallen to Ms Barbara Florence Daniel four years earlier. But they did break significant new ground, becoming the first 'major intake' of women to graduate from the country's principal meteorology course.
Today, the legacy of these women lives on, in an organisation that proudly recognises and celebrates the expertise and achievements of women in diverse roles throughout its varied business areas and geographical locations.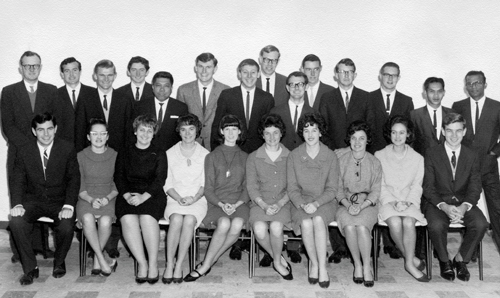 Ground breakers: The first major graduation of women from the Bureau of Meteorology's Met course in April 1965.
In the beginning
Women were first employed in specialist roles by the Bureau during the Second World War. In May 1941, seven members of the Women's Auxiliary Australian Air Force (WAAAF) began working at the Bureau's Frosterly Building in Carlton, where they were employed in the Central Forecasting Room (CFR) on teleprinting and coding duties. In fact, the CFR was mostly staffed by the WAAAF; the only men were the supervising meteorologist and his assistant.
A few of these women were promoted to observer and forecaster roles before the war ended. But in accordance with the government rules of the day, all women had to resign once they were married.
| | |
| --- | --- |
| Barbara Daniel became the first woman to graduate from the Bureau's Met course—today's Graduate Diploma in Meteorology—shortly after her 21st birthday in August 1961. Barbara had joined the Bureau as a clerk in 1958 and early the following year enrolled in the agency's first cadetship program with RMIT, which combined physics and maths lectures at RMIT with meteorological practice at the Bureau's Training School. | Barbara Daniel became the first woman to graduate from the Bureau's Met course in 1961 |
'When my boss, Don Handcock, suggested I apply for a cadetship, I told him "surely they won't accept me as a girl"', Barbara recalls today. 'But I'm glad to say that I was wrong!'.
Now aged 74 and living in Port Macquarie, Barbara Lee (née Daniel) still remembers the pride she felt on graduating from the Met course. 'It felt like a great achievement at the time', she says. 'My parents and aunties were so proud, and so were my old teachers at St Michael's Grammar School. I was even the subject of articles in The Herald and the Women's Weekly!'.
After she graduated, Barbara Daniel worked for the Victorian Regional Office in the Weather Records and Statistics Section and had an illustrious career with the Bureau spanning more than 20 years.
Bob Leighton, who still serves as a part-time 'guru' for the Bureau's meteorology trainers, was one of Barbara's fellow graduates. 'I think we all felt like we were the pioneers of the new cadetship, and Barbara was very dedicated to completing those studies', he recalls. 'For her, it was more about learning the meteorology trade than being a flagbearer for women or changing the world'.
In 1962, Ms Rosea Boyd and Ms Margaret Amos became the next ground-breaking women to complete the Met course, in conjunction with science degrees at the Universities of Melbourne and Sydney. After this modest start, the Bureau reported its first 'major' graduation of women in 1965, with the seven pioneers—all cadets at RMIT—completing the 11-month course on 30 April. Reflecting their earlier WAAAF peers, they numbered seven.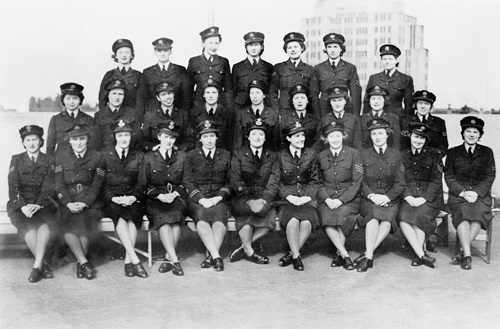 Members of the Women's Auxiliary Australian Air Force who worked as forecasters, observers and charters (defence).
1965 also saw the launch of the Bureau's first Weather Assistant course. This was only a one-month course and the trainees were posted to various regional offices once they'd completed practical tasks such as communications and plotting. Six trainees completed the first course, four of whom were women.
The number of women employed by the Bureau has grown significantly in the intervening years, with women now comprising 29.5 per cent of the agency's total workforce. Last year, women completed 1617 courses at the Bureau's Training Centre. Of the 23 employees who completed the 2014 Met course, nine were women. This year, the proportion should be even higher: of the 20 employees enrolled, 11 are women.
In pioneers' footsteps
Women have played a prominent role among the army of volunteer observers who have served the Bureau during its 107-year history.
Madge Wilson is recorded as one of the longest serving volunteer observers, who contribute vital rainfall observations.

Born near Launceston in 1883, Madge took over from her father, who had been an observer from 1910 to 1922. She went on to serve as an observer for at least 50 years—an achievement marked in August 1973, when Madge received an Excellence award at the age of 90.

In 1985, Mrs Jennie Bedser received an Excellence award for an extraordinary 64 years of rainfall observations at Prestwood, North Queensland, between 1915 and 1979.

She took over recording rainfall from her father, Edward Green, in 1915—although from 1915 to 1919 it is believed that her observations were recorded in her father's name.

Madge Wilson was a Bureau volunteer weather observer for more than 50 years.
Denise Allen has had an award-winning career with the Bureau. A pioneer for her work in Antarctica, Denise served as the only female member of the winter expeditions at Mawson and Davis in 1986 and 1988. In 1989, she became, together with Dr Lynn Williams, one of the first women to receive the prestigious Australian Antarctic Medal from the Governor of Victoria—awarded in recognition of outstanding service with Australian Antarctic expeditions.
Among a long list of firsts, Denise was the first female observer to be posted to Queensland in 1983 and the first to serve on remote Willis Island, where she provided observations for six months in 1984. In 1988, after her achievements in Antarctica, she became the first woman to be appointed a senior observer by the Bureau, and in 1992, the first woman to complete winter postings at all four active Australian Antarctic stations—Macquarie Island, Mawson, Davis and Casey.
More recently, long-term Bureau employee Dr Sue Barrell broke new ground when she was appointed as the agency's Deputy Director of Observations and Infrastructure—becoming the first female meteorologist to join the Bureau's senior Executive team.
Since 1980, Sue has worked in a multitude of capacities at the Bureau—from trainee forecaster, through research and systems development, to climate policy and observations—as well as serving as its representative on several international policy and science forums.

She has chaired a number of global initiatives, including the UN Framework Convention on Climate Change contact group on research and systematic observations, and the Inter-Commission Coordination Group on the World Meteorological Organization's Integrated Global Observing System.

So does Sue have any advice for young women interested in taking up a career in the once male-dominated halls of meteorology? 'Believe in yourself and your ability to achieve your goals,' says Sue, who has a PhD in astronomy and a BSc in physics, as well as the Bureau's Graduate Diploma in Meteorology.

'I've been very lucky to have worked doing the things I love doing, and with the challenge of learning something new every day', adds Sue.

Dr Sue Barrell, Deputy Director Observations and Infrastructure
'Meteorology is a wonderful profession, and joining an agency like the Bureau can open up many different roles—and take you all around the world!'
More opportunities are now opening up for women across the Bureau, as it seeks to further improve gender balance among employees. In the past five years, the proportion of women in executive positions has increased at a notable rate, with the Bureau's Executive of one Director and five Deputy Directors reaching gender parity—three women and three men—in November 2014. There are now significant numbers of women in several sections of the agency, from weather forecasting and human resources to communications and climate information—a situation that would have been unthinkable 50 years ago.
Article prepared by Rosa Serratore, Chief Librarian, National Meteorological Library.