Large Swells Impact Southeastern Australia
Victoria's seaport of Portland recently closed for the first time in ten years due to eight-metre swells. The large swells resulted in significant beach erosion along Victoria's coast causing $150 million dollars in damage. Waves were also seen washing against the historical buildings of Port Arthur in Tasmania. These were some flow-on impacts from a major weather system that affected southeastern Australia in early July 2011.

These two images were taken from the OceanMAPS forecast system measuring sea level and currents for Victoria and Tasmania in early July. Ocean currents are represented by the long arrows. Unusually high seas levels are indicated by red tones along the Victorian coastline - darker red tones indicate higher sea levels. Blue tones indicate lower than average sea levels - deeper blue tones indicate lower levels.
Three major components contributed to the coastal erosion: strong winds, high ocean levels and massive swells.
1. Strong winds
Strong winds from Antarctica blew towards southeastern Australia for several days.
Wind gusts reached between 100 - 140 kilometers per hour in Tasmania and Victoria.
Trees and power lines were damaged, leaving 700 homes without power.
2. High ocean levels
Continuous water build-up against the coast was a major factor of high sea-level recordings.
Several days of strong winds dragged the ocean's surface towards Victorian and Tasmanian coastlines.
Sea level recordings were up to 60 cm above normal.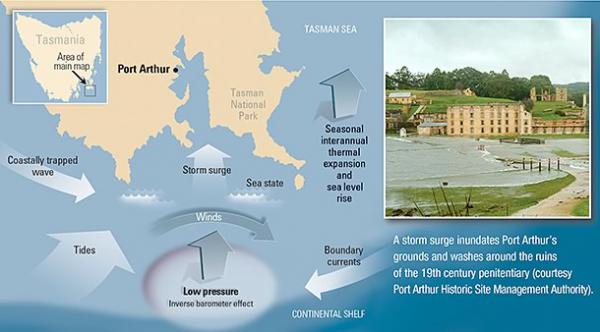 Infographic: Port Arthur flooding due to large wave activity in early July.
3. Swells
Large Swells Impact Southeastern Australia - This video explains swells that affected Southeastern Australia from 7-11 July 2011 (Text transcription).
Swells were caused by southwesterly winds generated near Antarctica.
These winds reached sustained speeds over 100 kilometres per hour for almost a week.
Waves increase in size when winds sustain a high speed over a large distance for a number of days, and can maintain their size and energy until they reach a coastline.
Unfortunately, when such conditions combine, coastal areas become vulnerable to the ferocity of the ocean. Abnormally high ocean levels allow swells to break closer to the coastline and erode beach dunes more easily.