How do tropical cyclones get their names?
Updated 19 September 2018
Tropical cyclones are named to help with communication about these dangerous storms. Names also raise the profile of the cyclone, heightening public awareness and reducing confusion if multiple cyclones occur at the same time. So, how do cyclones get their names?
---
The Bureau maintains a list of names, arranged alphabetically and alternating between male and female. See the list here.

AskBOM video: How do tropical cyclones get their names?
If a cyclone severely impacts the coast, resulting in significant damage and potentially loss of life (e.g. Larry in 2006 and Tracy in 1974), its name is permanently retired from the list and replaced with another of the same gender and first letter. It can take over ten years from the time a name is put on the list to when it is first used to name a cyclone.
The Australian legacy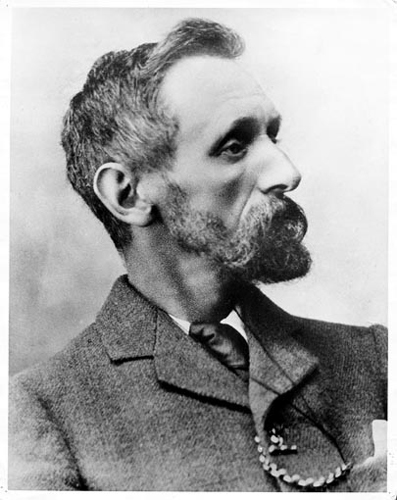 Clement Wragge circa 1900. Image from the Bureau's archives.
Since the late nineteenth century, tropical cyclones have been receiving names thanks to a colourful and memorable character of early Australian meteorology—Clement Wragge. Nicknamed 'Inclement', Wragge left the UK for Australia in 1883, and played an important part in the history of Australian meteorology. He started Queensland's Central Weather Bureau in 1887, where he was chief meteorologist until 1902. Wragge initiated the naming of weather systems, choosing names ranging from mythological creatures to politicians who annoyed him.
Always included in the historical accounts of naming storm systems, Wragge influenced the naming of powerful weather systems worldwide—from hurricanes to tropical cyclones. The convention of naming Australian tropical cyclones began in 1964 with Bessie, which formed on 6 January 1964 in Western Australia, and was the first Australian cyclone to be officially named. Female names were used exclusively until 1979.
Names used in the Australian region
The first tropical cyclone to form in the Australian region in the 2018–19 season will be named Owen, as per the predetermined list. However, if a cyclone forms in an adjacent region (such as Indonesia) it will be named there, and will keep that name if it moves into the Australian region. A name from the list may be skipped if it is not deemed appropriate when it is due to be used—for example, if it is the same as the name of a public figure who is in the news for a sensitive or controversial reason. A name may also be skipped if a similarly named cyclone is already active in the area.
Cyclone updates on Twitter
The most up-to-date cyclone warnings and information can be found on the Bureau's website at www.bom.gov.au/cyclone. We also issue updates on cyclones and other significant weather events on Twitter. Follow the national account @BOM_au or the regional account for your State or Territory (e.g. @BOM_WA, @BOM_NT, @BOM_Qld). When tweeting about a tropical cyclone, the Bureau will use a hashtag starting with #Cyclone and ending with the official name of the cyclone—for example, #CycloneOwen.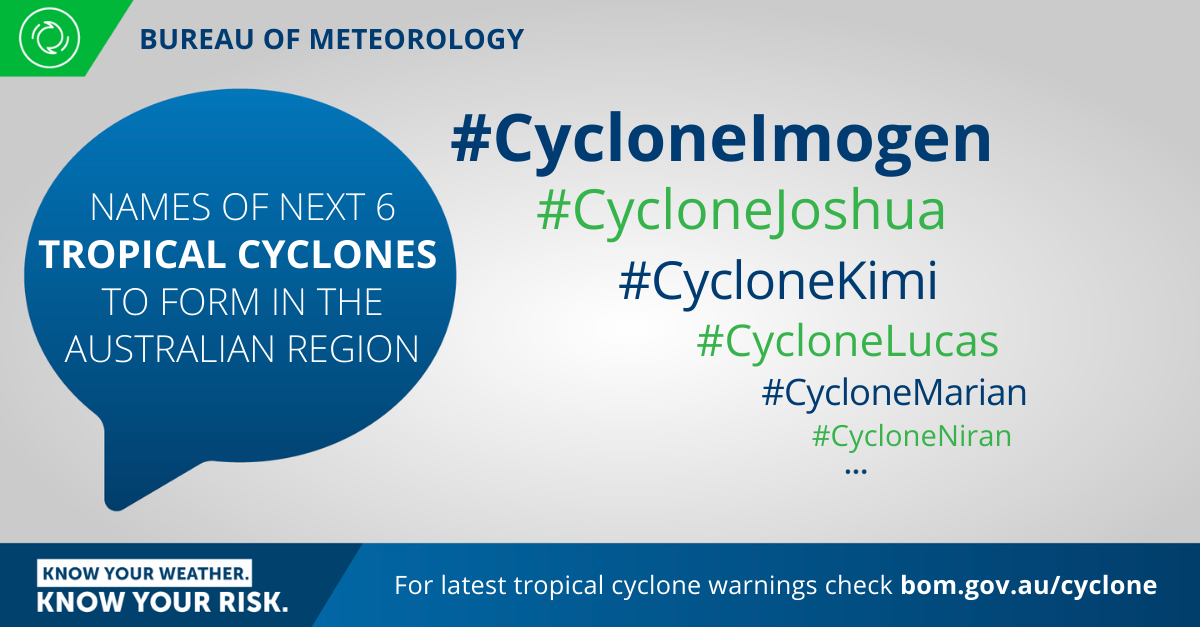 Cyclone hashtag format for the 2020–21 tropical cyclone season.