A global science
Meteorology is a global science, and monitoring and predicting the state of the atmosphere requires participation in international systems that collect and exchange global environmental information.
---
International cooperation is critical to the delivery of the Bureau services so valued by Australians. It ensures that the Bureau and Australia benefit from scientific, technological and operational developments and expertise in other countries. Through our international engagements, we can achieve a more robust operational service, strengthen our capabilities, build our profile and reputation, foster goodwill and collaboration with key partners, and serve the needs of Australians wherever they are in the world.
Australia has obligations under various international conventions, such as the Convention of the World Meteorological Organization (WMO), the International Convention for the Safety of Life at Sea and the Convention on International Civil Aviation. Under these arrangements, we monitor the state of the atmosphere, share meteorological and related information with other countries, and provide services that protect life and property and minimise economic disruption caused by weather and related environmental phenomena.
'There is a wonderful tradition of global cooperation in meteorology,' says Bureau Director and CEO Dr Rob Vertessy. 'We are extremely grateful for the excellent relationship we have with our counterparts in other countries'. The Bureau maintains bilateral collaborations with key international partners, contributes to international scientific and technical programs, and takes part in aid-funded capacity development projects in our region.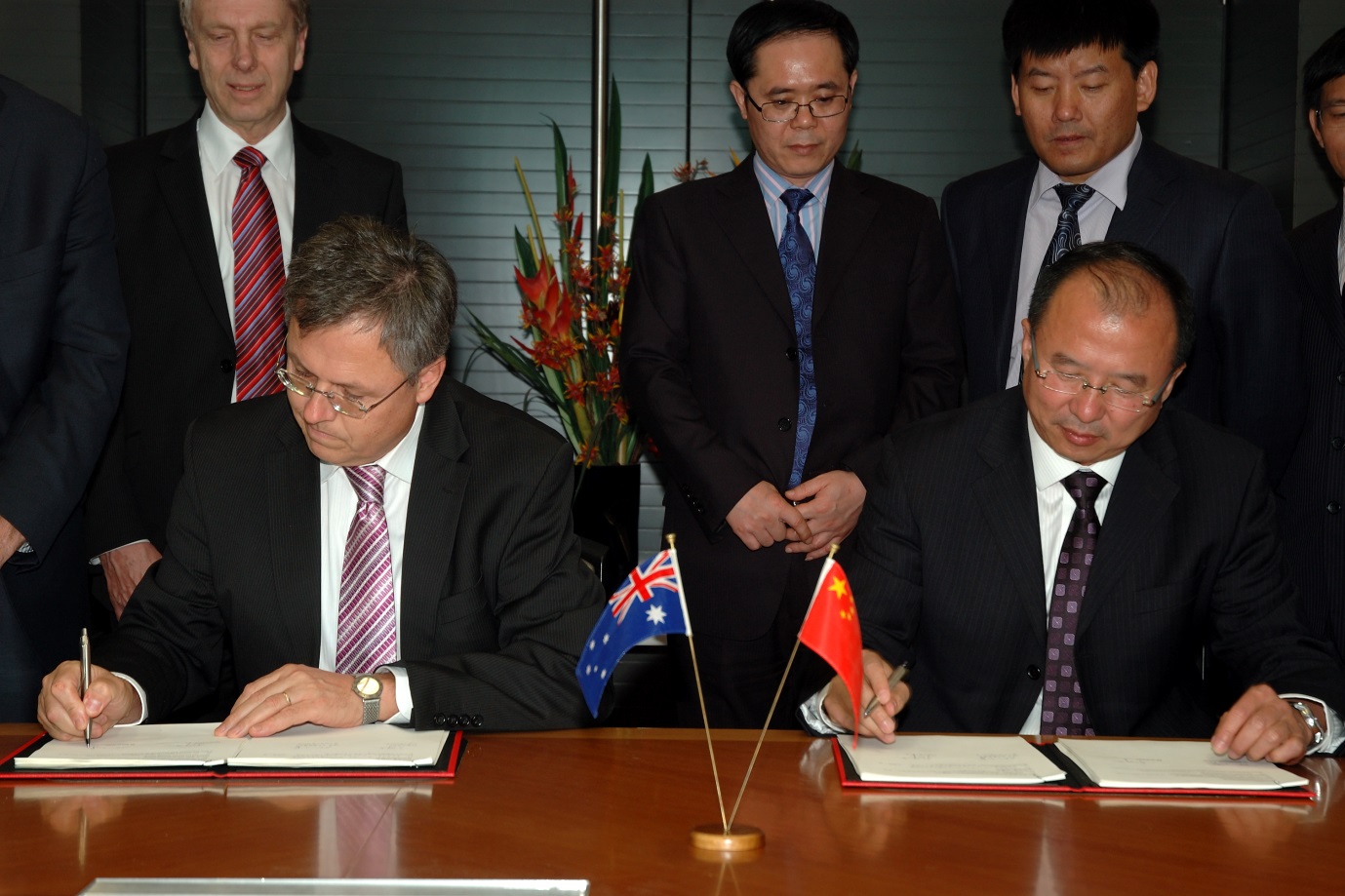 The Bureau of Meteorology's Dr Ray Canterford (formerly Deputy Director of Hazards, Warnings and Forecasts Division) and Director (CEO) Dr Rob Vertessy meeting with Dr Yu Xinwen, Deputy Administrator of the China Meteorological Administration and delegation in Melbourne, December 2012.
The area of meteorological observations and data sharing is subject to rapid changes in technology and policies. Complex planning, technical collaboration and negotiation are required to develop and implement globally consistent practices and standards for measurement, calibration and data exchange, as well as for coordinating preparedness and response to natural disasters. The Bureau draws on expertise from other national meteorological services through visits to key agencies and participation in relevant international meetings—both face-to-face, and remotely via online conferencing. In return, overseas scientists are often hosted at the Bureau.
Cooperating with key international partners is paramount for critical observational infrastructure such as meteorological satellites. Japan, China, the United States and others operate important meteorological satellite programmes that the Bureau can to tap into as a result of the free data exchange policies of the WMO and the generosity of the satellite operators.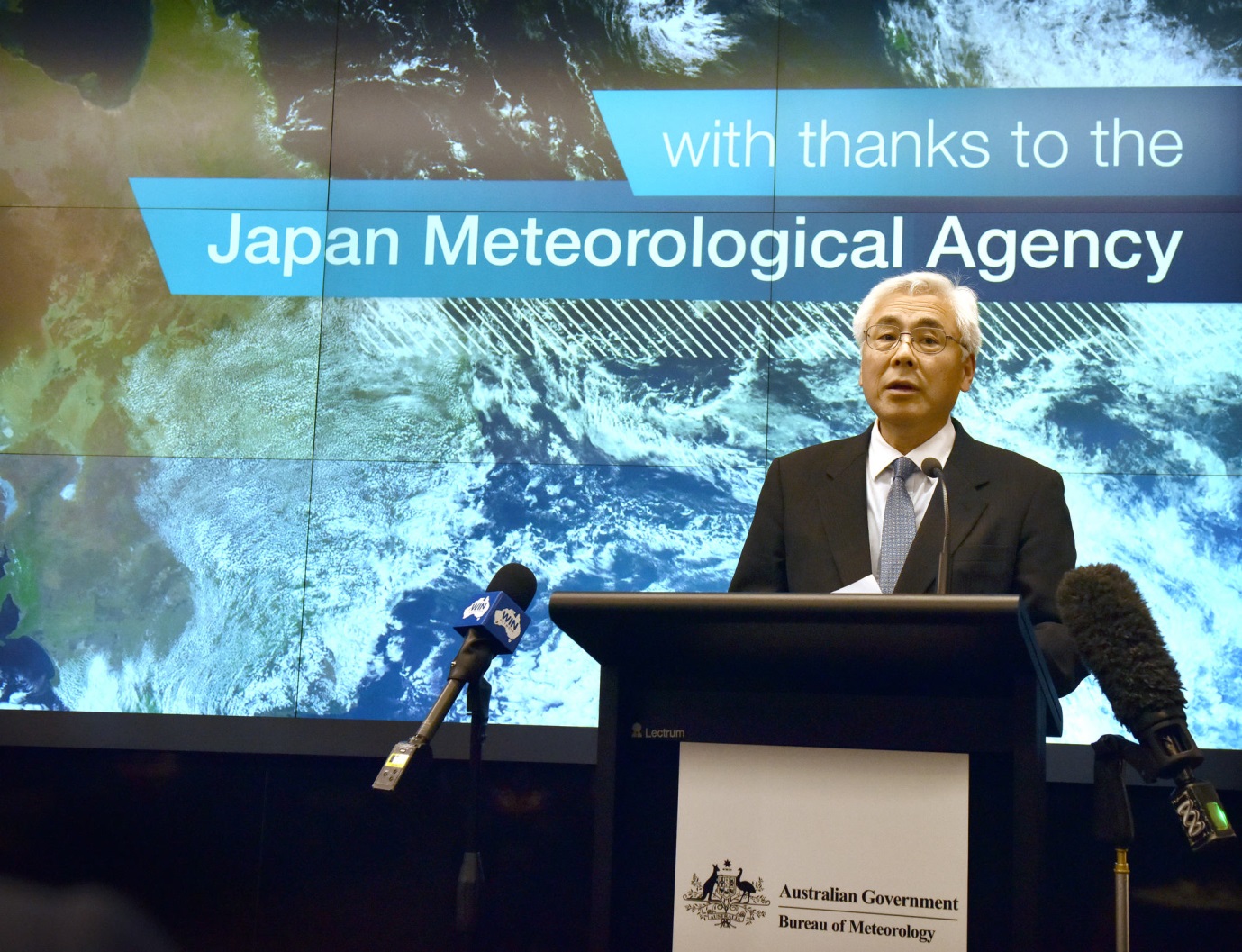 Japanese Ambassador to Australia Sumio Kusaka at the launch of the Bureau's new satellite viewer, which uses data from Japan's Himawari-8 satellite*.
Contributing Australian expertise to key international satellite forums and real-time access to the data from these satellite programmes are fundamental to our ability to monitor and predict the state of the atmosphere and oceans. That, in turn, is fundamental to ensuring the safety and prosperity of the Australian community.
* To explore images from Japan's Himawari-8 satellite through the Bureau's new satellite viewer, visit satview.bom.gov.au.