Snow alert: How to make sure you stay on top of the snow this ski season
Heading for the ski fields this winter? You'll be much better prepared if you take the Bureau's expanded snow forecasts along with you on your laptop, tablet or smartphone.
---
Tech-savvy skiers watch out: Australia's most accurate weather forecasts are now available anywhere on the slopes, courtesy of an expanded mobile snow forecasting service from the Bureau of Meteorology.
If you're heading for the ski slopes this season, the Bureau's map-based MetEye service and handy mobile website offer a perfect combination of long-term planning tools and up-to-the-minute forecasts that will make sure you never miss a drop of the white stuff.
As well as our time-tested MetEye service, our mobile website lets travelling skiers check in an instant when and where snowfalls are expected for every three-hour period over the next 24 hours. The site provides 'at a glance' icon-based forecasts for 6x6 km grid areas across all the main alpine resorts in Victoria, New South Wales and Tasmania – ensuring you'll never miss a major snowfall.
Planning your skiing trip
If you're using a PC, our map-based weather viewer, MetEye, will let you 'track' precisely where and when the snow is projected to fall at a specific location in any skiing area over three-hour intervals in the next seven days.

Once you arrive on the MetEye landing page, you simply go to the section for forecasts of Storms, Snow, Rain, Fog and Frost, and select 'Snow'. You'll then see the image above, with areas shaded according to the highlighted legend with the level of snow expected at the chosen time step.
For more detailed location-specific information, just type in your preferred resort or location of interest – for example, Falls Creek or Thredbo Top Station – and select the location from the list.
The map will automatically resize and a pop-up window with the forecast for the next seven days will appear, looking like this: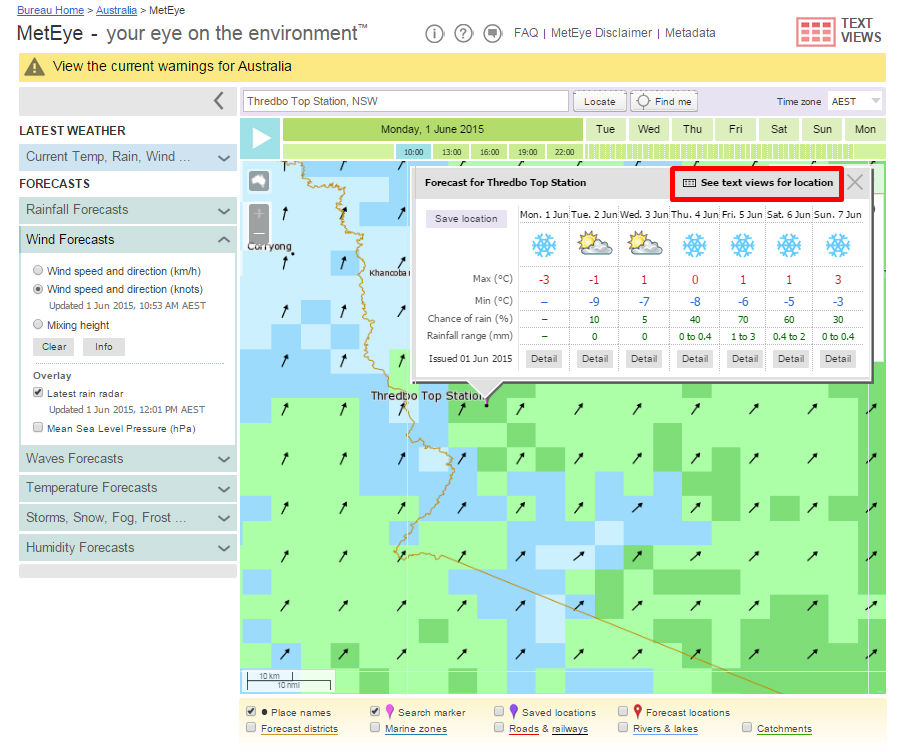 Inside this window is a link to 'See text views for location' (highlighted in red), which will take you to a much more detailed view that includes current conditions and forecasts alongside radar and satellite images.
The next screen will look like this: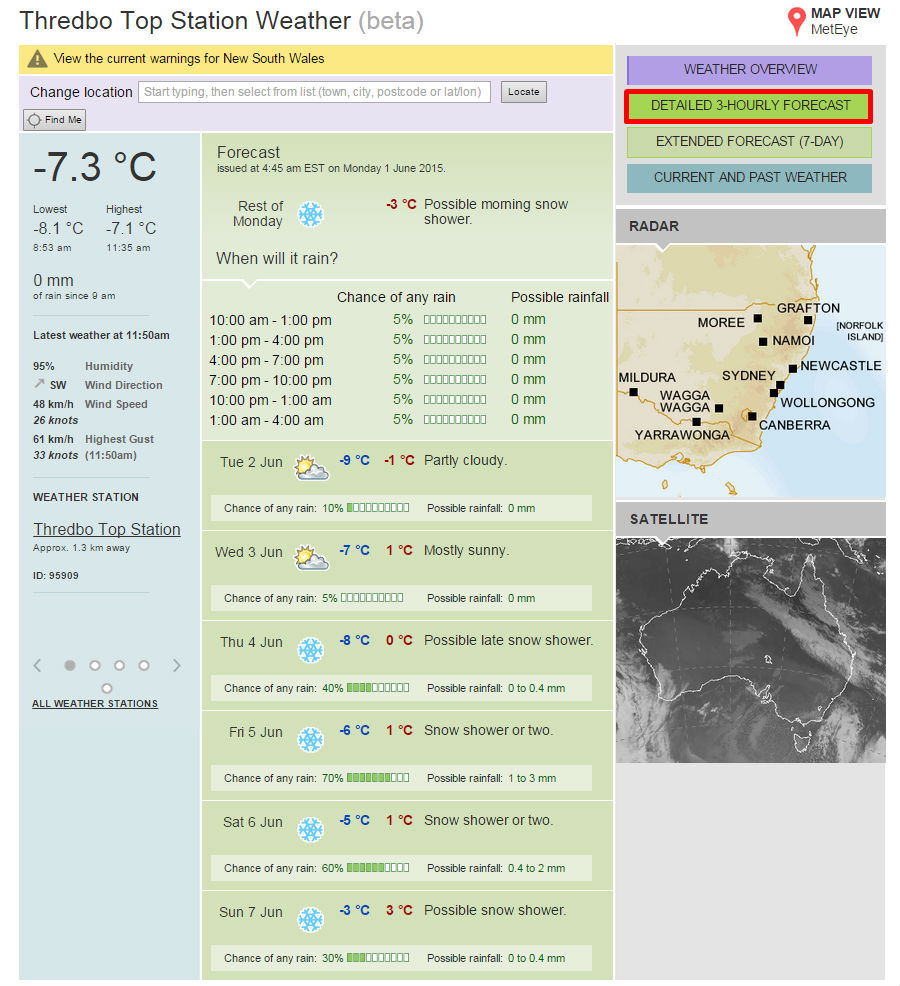 Again in the top right-hand corner, there is a link to the 'Detailed 3-hourly forecast' (highlighted) which will take you to the full weather breakdown, including the wind chill (what it 'Feels like'), significant snowfalls, and the chance of rain/snow.

Information at your fingertips
For more independent travellers and cross-country skiers, real-time snow forecasts are available on your smartphone through the Bureau's mobile website. This provides up-to-the-minute forecasts developed with data from your nearest weather station across all of Australia's major skiing areas – not just towns and resorts.
Clicking on the mobile site will give you an instant 'picture' of how the weather will develop over the week ahead through at-a-glance daily icons (including a snow icon) and the major weather parameters.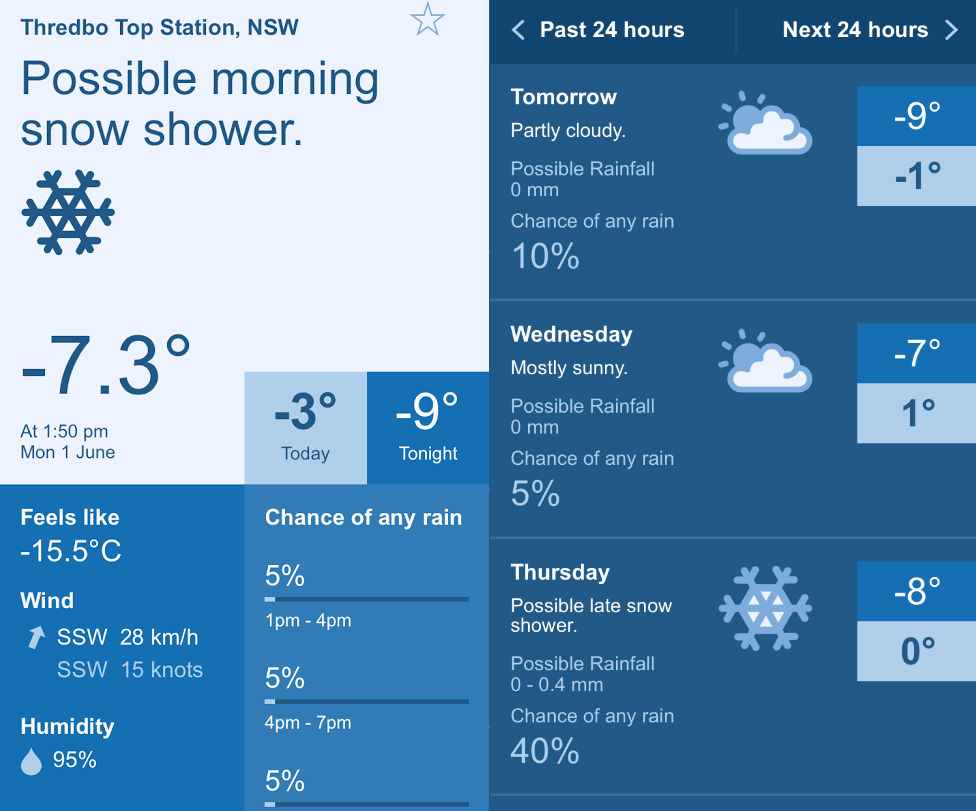 Detailed information is also available for the next 24 hours, with forecasts for the temperature, humidity and wind speed every three hours in an 'easy to read' table (see below). There is also a 'Chance of any rain' indicated, which translates to snow in sub-zero temperature conditions. As a rough guide, 1 mm of rain is equivalent to 1 cm of snow.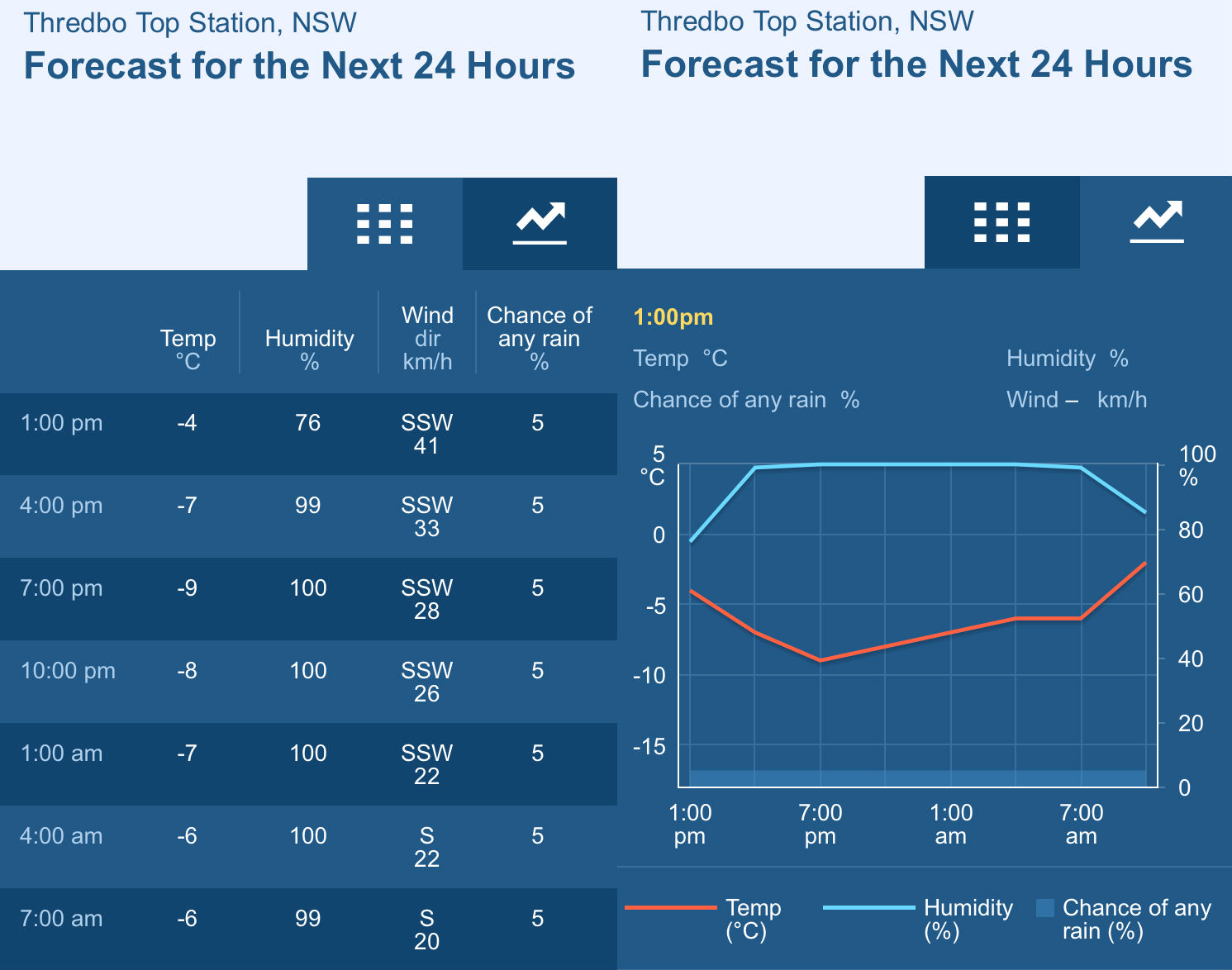 Smartphone users can also pre-set a 'favourite location' to give them instant access to the forecast at their nearest ski resort – or even to check the weather back home.
But please always remember to check the forecasts regularly, as conditions can change rapidly in the Australian Alps.
Happy skiing and snowboarding!