How will I know if a heatwave is coming?
In the last 200 years, severe and extreme heatwaves have cost more lives than any other natural hazard in Australia1. Heatwaves affect healthcare, transport, emergency services, energy, agriculture and many other sectors.
---
What is a heatwave?
The Bureau defines a heatwave as three or more days in a row when both daytime and night-time temperatures are unusually high—in relation to the local long-term climate and the recent past. For each part of Australia, we compare the forecast maximum and minimum temperatures for each three-day period in the coming week (e.g. Monday–Wednesday, Tuesday–Thursday, and so on) to the 'normal' temperatures expected for that location at that time of year, and to observed temperatures over the last 30 days.
Hot days without hot nights allow some recovery from each day's heat, but if the temperature stays high overnight then the maximum will be reached earlier in the following day and will last longer. When high night and daytime temperatures persist over a period of time, heat stress becomes a critical factor in human survival and infrastructure resilience.
Heatwaves are classified into three types:
Low-intensity heatwaves are the most common—most people are able to cope with this level of heat.
Severe heatwaves are less frequent and are challenging for vulnerable people such as the elderly—particularly those with pre-existing medical conditions.
Extreme heatwaves are the rarest kind. They affect the reliability of infrastructure, like power and transport, and are dangerous for anyone who does not take precautions to keep cool—even those who are healthy. People who work or exercise outdoors are particularly at risk.
Is there a heatwave is coming?
The Bureau's Heatwave Service, at www.bom.gov.au/australia/heatwave, provides two sets of maps:
two 'Heatwave Assessments' show recent build-up of heat across the country (the last two three-day periods); and
five 'Heatwave Forecasts' show predicted heatwaves (three-day periods) starting on each of the next five days.
Both types of map use the same colour coding to show the three different heatwave intensities, so you can see what conditions are heading your way.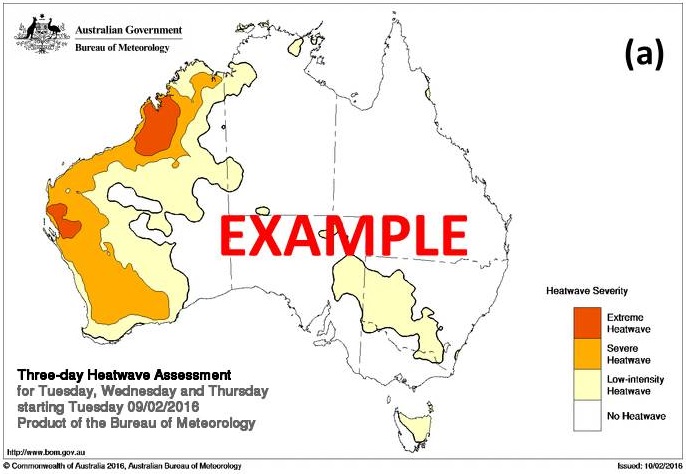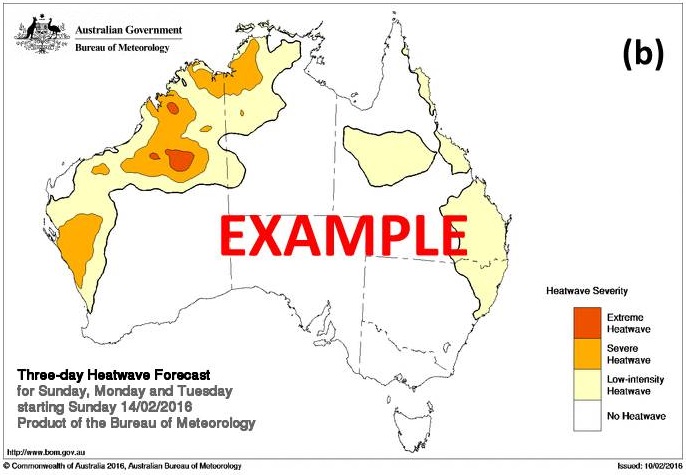 Examples of (a) a Heatwave Assessment map and (b) a Heatwave Forecast map, each for three-day periods, from the Bureau's Heatwave Service
The Bureau's Heatwave Forecast (which operates November–March each year) shows where and when such heat events are expected during the coming week.
You can use heatwave forecasts to better prepare for heatwave conditions and reduce the impact of heat stress on you, your family and your business. If a heatwave is headed your way, consider the level of severity (see three types above), and listen to messages from your local emergency services and health authorities.
State health departments heat safety advice
[1] Coates et al. 2014: www.sciencedirect.com/science/article/pii/S1462901114000999