What is an East Coast Low?
East Coast Lows (ECL) are intense low pressure systems that occur off the eastern coast of Australia, in particular southeast Queensland, New South Wales, far eastern Victoria, and sometimes Tasmania. Although they can occur at any time of the year, they are more common during late autumn and winter with a maximum frequency in June.
---

How do they form?
East Coast Lows may form in a variety of weather situations. In summer they can develop from ex-tropical cyclones as they decay and move south. At other times of the year, they will most often develop rapidly just offshore within a pre-existing trough of low pressure, due to favourable conditions in the upper atmosphere.
East Coast Lows may also develop in the wake of a cold front moving across from Victoria into the Tasman Sea. The warm sea surface temperatures associated with the East Australian Current are also an important factor contributing to the development of the systems. Gales and heavy rain occur on and near the coast south of the low centre, while to the north of the low there can be clear skies.
There's only a handful of places outside Australia where these types of weather systems are also observed, including off the coast of Africa and America.
Why are they dangerous?
East Coast Lows can be quite slow-moving or even near-stationary, which means the effects usually last much longer than normal low pressure systems or cold fronts. They can generate one or more of the following impacts:
gale or storm force winds along the coast and adjacent waters, and even the occasional tornado;
heavy, widespread rainfall leading to flash and/or major river flooding; and
very rough seas and prolonged heavy swells over coastal and ocean waters, causing coastal erosion and inundation.
Falling trees and flash flooding have caused fatalities on land, while many small craft have been lost off the coast and larger vessels have run aground during these events, making them particularly hazardous for marine users.
What's the difference between an East Coast Low and a tropical cyclone?
Tropical cyclones develop over very warm tropical waters where the sea surface temperature is greater than 26°C. They have relatively long life cycles, typically about a week, and severe tropical cyclones (Category 3 or greater) can produce significant property damage with wind speeds over 180km/h near the centre, heavy rainfall and coastal inundation through storm surge. Tropical Cyclone Justin, which affected the Queensland Region in March 1997, lasted for 18 days!
East Coast Lows generally have much shorter lifetimes than tropical cyclones and last only a few days. They develop over the Tasman Sea close to the east coast and can intensify rapidly in the overnight period. Unlike tropical cyclones, where the warm seas provide the energy source, East Coast Lows are driven by a dynamic interaction between cold air in the high levels of the atmosphere over the continent, and the surface temperature gradient between the land and the relatively warm Tasman Sea air. They can produce gale to storm-force winds, very heavy rainfall and in some cases coastal inundation.
While maximum wind speeds recorded are typically lower than severe tropical cyclones, a gust of 165 km/h was recorded in 1974 at Newcastle associated with the East Coast Low that sunk the bulk carrier Sygna—the wind speed equivalent of a Category 3 severe tropical cyclone. The wreck of the Sygna, driven onshore during the storm, still lies on Stockton Beach, near Newcastle.
In June 2007, when the bulk carrier Pasha Bulker ran aground on Nobbys Beach at Newcastle, gusts of 135 km/h were recorded. Similarly, in April 2015 peak wind gusts during an ECL reached 135km/h at Nobbys Head (Newcastle), Norah Head (Central Coast) and Wattamolla (Illawarra).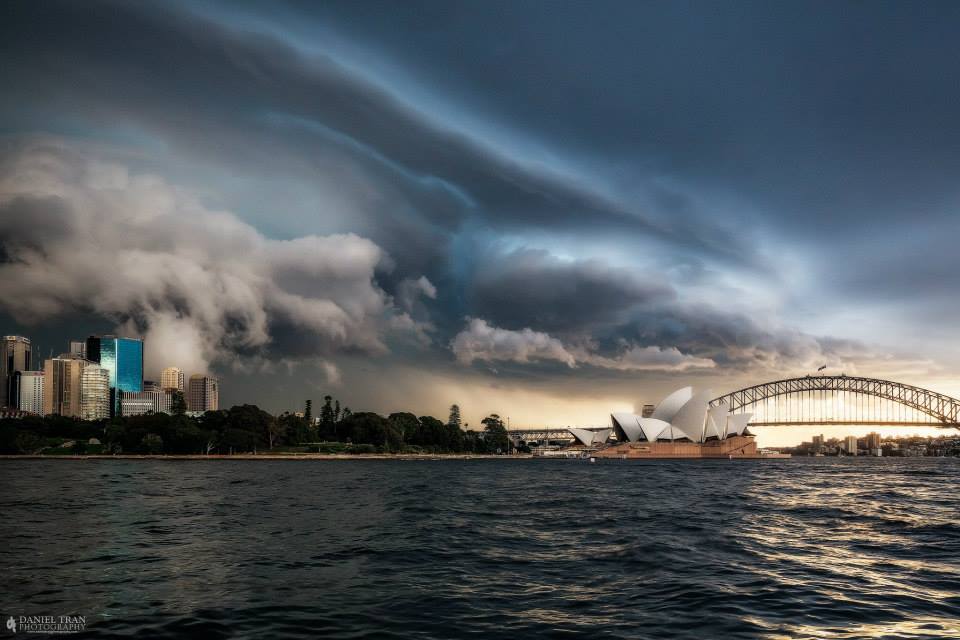 Photo: Shelf cloud over Sydney on 25 April 2015, by Daniel Tran Photography. A slow-moving East Coast Low brought severe weather and flooding to much of coastal New South Wales between 20 and 23 April 2015.
Recent major East Coast Lows

What warnings does the Bureau issue for East Coast Lows?
Over land areas Severe Weather Warnings are used to warn of the dangerous winds, damaging surf, abnormally high tides that can cause coastal erosion, and heavy rain leading to flash flooding. If needed, Flood Warnings are also issued to warn of river flooding, and Severe Thunderstorm Warnings may also be issued. Over the sea the standard Marine Wind Warnings are used.
For the latest warnings always check www.bom.gov.au and listen to advice from emergency services.
How often do they form and is there a trend?
On average, the eastern seaboard sees seven significant East Coast Lows each year. Climate change projections suggest that increasing greenhouse gas concentrations will lead to fewer East Coast Lows late in the century. This is consistent with an observed trend towards reduced storminess in eastern and southern Australia since 1890.
Looking for more resources?
Australia Rainfall and River Conditions