Know your weather: rock fishing
Updated 11 December 2019
Rock fishing is a popular but risky recreational activity around Australia's coastline. Wherever you're planning your rock fishing trip, it's always important to check the weather and ocean conditions before you go. Read on to find out how to use weather information for rock fishing so you can enjoy your time out and come home safely.
---
Planning your rock fishing trip
What to check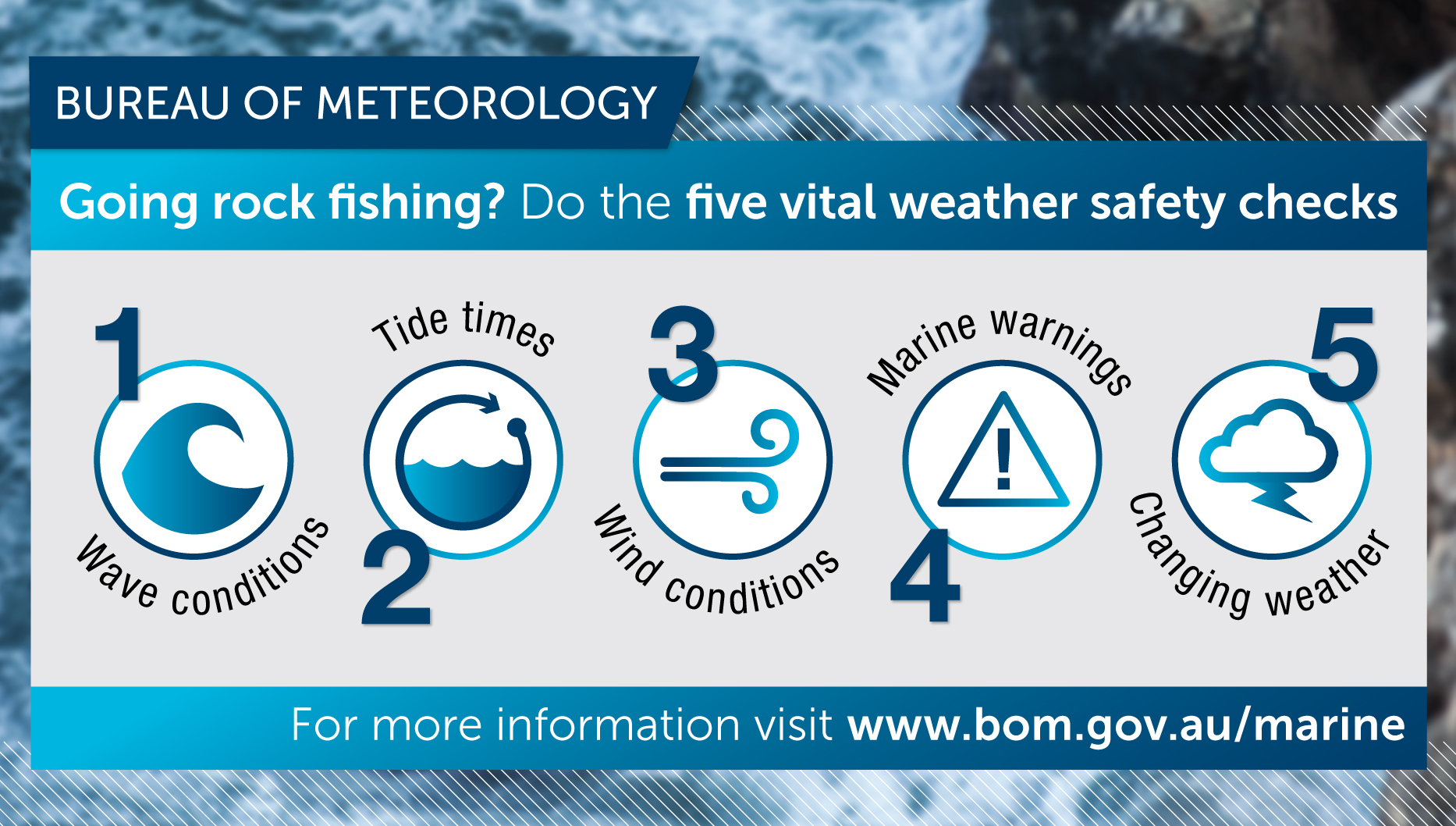 The Bureau recommends five weather safety checks if you're planning a rock fishing trip.
Check for large waves

Large seas or swell can create conditions that are dangerous or uncomfortable, and can sweep you off your rock fishing spot.

Check when the tide will be rising

Rising and high tides can make wave conditions change rapidly, with waves breaking unexpectedly onto the rocks where you may be fishing. You may also find the rising tide blocks your exit path.

Check for strong winds

Winds over 15 knots (28 km/h) can make the surf rougher, make tide levels higher than predicted, or make you lose your balance on the rocks

Check for marine warnings

Warnings alert you to conditions that may make rock fishing unsafe. Look for Marine Wind Warnings, Severe Weather Warnings, and Hazardous Surf Warnings (New South Wales and southern Queensland only).

Check for changing weather

Look for conditions such as reduced visibility from fog or rain, or risks to your safety and comfort from thunderstorms, lightning or squall conditions.
When to check
Well ahead of time you can find out about the climate of coastal locations. While weather can vary significantly from one year to the next, consider which months are typically hot, cold, windy, have larger waves, or are stormy. You can also check tide times up to a year advance.
Seven days before your chosen date you can access detailed (three-hourly) forecasts for wind, rainfall and temperature for any location.
Four days ahead you can access detailed forecasts for waves and swell in marine areas. These forecasts can help you pick the best day for rock fishing. The three-hourly forecasts can also provide you with further detail, to find out when conditions may deteriorate or improve during the day, and which locations might be more sheltered from an approaching swell. This will help you make more informed decisions about where and when you should go out and come home.
The morning or night before you should check back in with the weather forecast. Forecasts are updated at least twice a day, so they might have changed since you last looked. Watch for mentions of weather hazards or conditions that could make rock fishing uncomfortable or unsafe, such as heavy rainfall, strong wind, poor visibility, or very high or low temperatures. Consider the weather for your activity but also the journey to your destination and return trip. Also check if any weather warnings are current.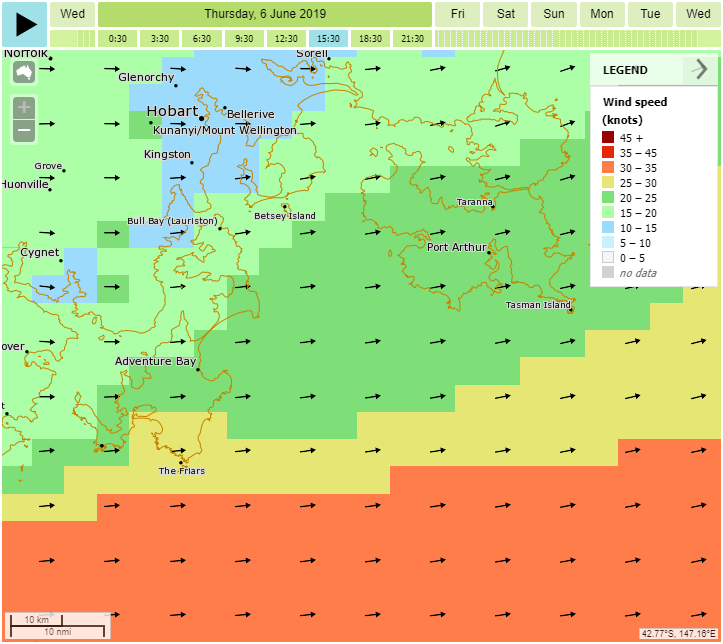 Map: The wind forecast from MetEye shows wind speed and direction.
How to check—our top tips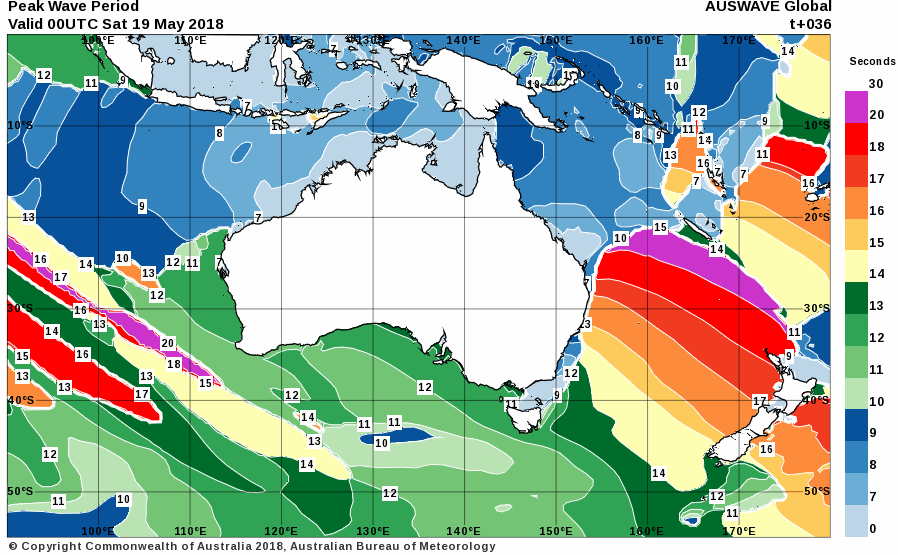 Image: Wave period forecast from the Interactive Weather and Wave Forecast Maps
Watch the weather while you're out
Stay connected to official information
If you have access, keep checking the Bureau website or BOM Weather app, or listen to the radio to get the latest information. If rain is expected, keep an eye on the rain radar if one is available in your area.
Pay special attention if there's a weather warning, and always listen to advice from emergency services.
Watch and listen for signs of changing weather
Watch and listen for signs of approaching weather. For example, cumulonimbus clouds or a rumble of thunder may indicate an approaching thunderstorm.
As recommended by Surf Life Saving Australia, when you arrive at your fishing spot you should spend some time watching the wind and the waves and talking to other anglers. While fishing, you need to be vigilant to the potential changes in wave behaviour as the tide rises and falls.
Follow advice from Surf Life Saving
Surf Life Saving Australia urges all rock fishers to:
wear a life jacket;
check tides, weather and surf conditions;
take personal responsibility, think twice and assess your safety;
plan an escape route in case you are washed into the water;
wear the right gear in addition to your life jacket, i.e. appropriate footwear, lightweight clothing
never fish alone and make sure you tell someone where you're going and when you'll be back;
look for 'angel rings' or other floatation devices to throw to someone in trouble; and
call 000 if assistance is required.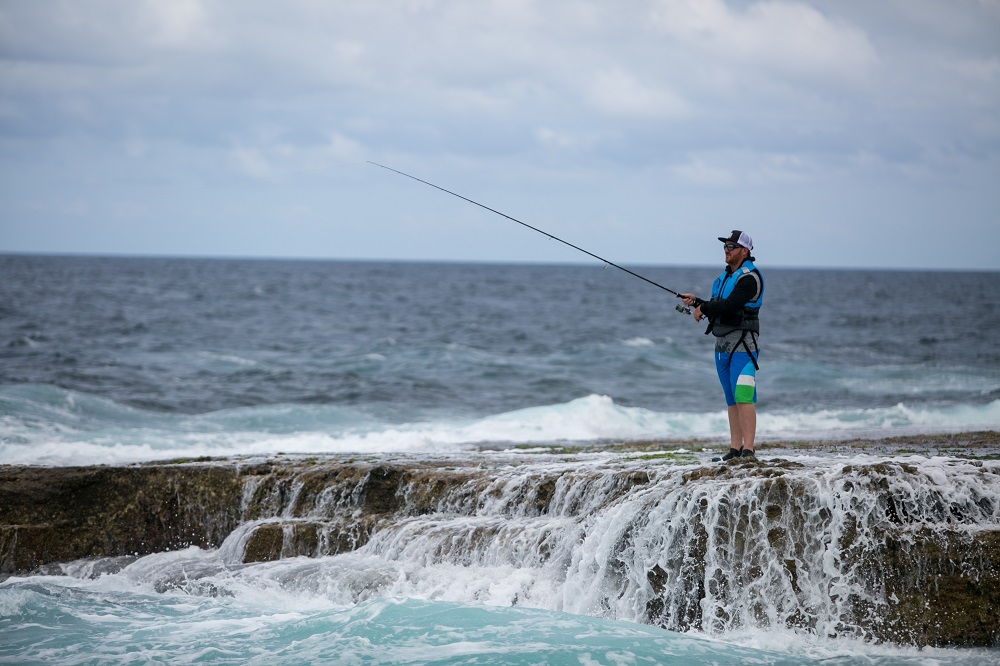 Credit: NSW Department of Primary Industry—Fisheries
More information

Also in this series