Know your weather: bushwalking and camping
Our Australian landscape provides a beautiful backdrop for bushwalking, camping, and other outdoor adventures. But when you're close to nature, you're exposed to the elements—and the weather in Australia can be extreme. So how can you know your weather better and make the most of your bushwalking or camping trip?
---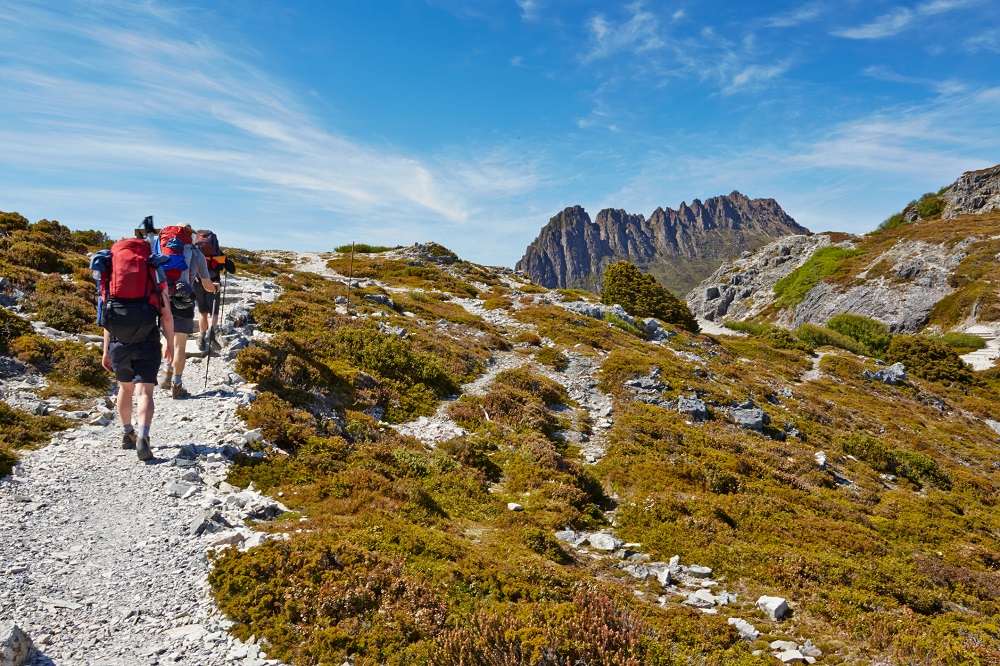 Photo: Bushwalkers on the Overland Track, Cradle Mountain, Tasmania.
Planning for your trip
You can use weather and climate information to plan, postpone, or change your plans for the safest and most enjoyable conditions, and ensure you have the right equipment and protective clothing.
Select the right time of year
If you're planning a bushwalking or camping trip well in advance, find out about the climate of the location when selecting your date. While weather can vary significantly from one year to the next, consider which months are typically hot, cold, wet, or dry for your location. Australia spans a large range of climate zones with different weather at different times of year.
You may also need to consider bushfire seasons, which vary around Australia.
Select the right time of day
Detailed (three-hourly) forecasts can help you pick the right time of day to go bushwalking. In warmer locations and during summer, this will often be earlier in the day to avoid peaks in temperature and UV. Consider that temperatures may also drop quickly in the evening and take precautions (such as extra clothing) if it's possible you will return later than expected. To help with planning, sunrise and sunset times are available in the BOM Weather app.
A three-hourly forecast can also tell you when conditions are likely to deteriorate or improve, helping you make informed decisions about when or how long to walk for, or if you should take a less exposed route.
Improve your weather knowledge
Our top tips for getting weather-ready, well before your trip: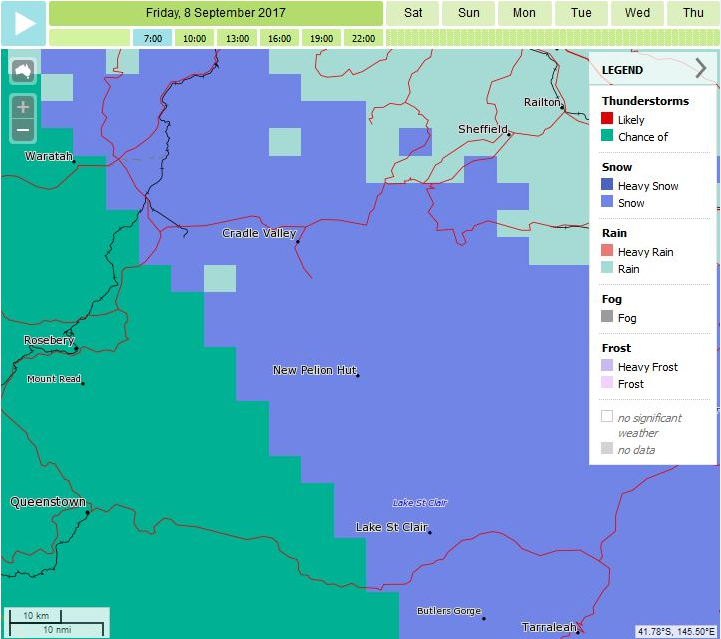 Map: Three-hourly significant weather forecast in MetEye
Beyond the weather: Planning for your trip
Remember to tell somebody where you're going and bring appropriate clothing, maps, and equipment. If you are bushwalking or camping in remote areas, consider carrying a personal locator beacon (PLB) to help rescue authorities locate you in a life-threatening situation.
Tips for your state or territory:
Check the forecast before you go
Check the weather forecast and review it regularly as your bushwalking or camping trip approaches. Watch for mentions of weather hazards or conditions that could make your time in the outdoors uncomfortable or unsafe. Consider the weather for your trip but also the journey to your destination and home again. Adapt your plans and equipment as needed.
Our top tips before you go:
Check a detailed forecast in MetEye as conditions can be more complex than a simple text forecast can summarise. Temperatures can be very different on the coast compared with further inland, meaning you need to access the forecast for your specific location. You can also access easy-to-read text forecasts for some major bushwalking areas.
Be aware of ultraviolet (UV) radiation and use sun protection measures. No matter what the UV Index, sun protection is recommended if you will be outside for extended periods or near reflective surfaces (like snow).
Check the wind forecast in MetEye or a text forecast. Strong wind, particularly at high points and exposed places, can cause trees to fall, causing injury, death, or damage to equipment.
Consider the forecast for 'feels like' (apparent) temperature which takes into account humidity and wind. This is an important factor for your comfort.
Be aware of river conditions and the potential for flooding if your bushwalk involves crossing rivers or if your campsite is located in an area prone to flooding.
Check the Heatwave Service to find out when and where heatwave conditions are expected. It uses a heatwave intensity index which is a more advanced indicator of heat stress than minimum and maximum temperatures alone.
Get the latest fire danger information from your State or Territory fire service including Fire Danger Ratings, Total Fire Bans, and hazard reduction burns.
Remember that some weather phenomena (such as thunderstorms and rain) are localised and it can be more difficult to predict their timing and location than those that cover a broader area (such as heatwaves).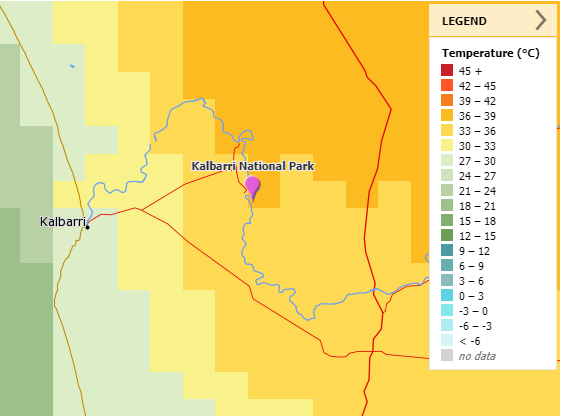 Map: MetEye weather forecast showing temperature difference between Kalbarri on the coast and Kalbarri National Park further inland.
Specialised forecasts for popular areas
Where are you heading? Specialised weather forecasts are available for some popular walking and camping areas.
Watch the weather while you're out
Stay connected to official information
If you have access, keep checking our website or BOM Weather app, or listen to the radio to get the latest information. Listen to information from emergency services and park managers. Park Visitor Centres and other facilities may also have a copy of the weather forecast.
Weather is very changeable and our forecasts are regularly monitored and updated so it's important to check back for the very latest information. If you're on a multi-day walking or camping trip, the forecast may change while you're out, so be prepared for a range of possible conditions.
Pay special attention to weather watches and warnings, and take action as needed. Warnings can be issued days, hours, or shortly before impacts occur. Remember that not all weather conditions that put you at risk will lead to an official weather warning. Even small amounts of rain can be dangerous in canyons, or generally uncomfortable if you aren't prepared.
In Tasmania, look out for our Bushwalkers Weather Alert.
Be aware that the rain radar can be limited in mountainous areas and may not show snow.
Watch and listen for signs of approaching weather
Official weather information may not be accessible, particularly if you're in a remote location.
Watch and listen for signs of approaching weather in the natural environment. For example, cumulonimbus clouds or a rumble of thunder may indicate an approaching thunderstorm, rising river levels may indicate heavy rainfall upstream, or smoke can indicate a nearby bushfire.
Conditions can change quickly, particularly in locations where you can't see the horizon. Return home or seek shelter if needed.
More information