Tropical Cyclone Marcia to reach Category 5 system at landfall
19/02/2015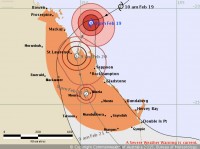 Severe Tropical Cyclone Marcia is forecast to intensify to a Category 5 system as it crosses the Queensland coast between Mackay and Gladstone on Friday morning with destructive winds with sustained winds near the centre of 195 kilometres per hour with wind gusts to 295 kilometres per hour near the core of the system.
Gales are expected to develop about coastal and island communities between Bowen and Double Island Point this evening (Thursday), and extend inland to areas including Blackwater, Moura, Biloela, Monto, Taroom, Mundaberra and Gayndah, Murgon and Gympie overnight and into Friday morning.
Residents in the coastal warning zone, between Bowen and Double Point (including Mackay, Yeppoon, Gladstone, Bundaberg and Hervey Bay) are warned of the potential for a dangerous storm tide as the cyclone crosses the coast.
Abnormally high tides are expected, with levels above the highest tide of the year with flooding of low lying areas likely. People are urged to listen closely to the advice of local emergency management authorities.
Heavy rainfall associated with the cyclone and a trough is forecast to affect catchments from Rockhampton and south to the Northern Rivers, Mid North Coast and eastern parts of the Northern Tablelands in NSW from Thursday through to Saturday.
Widespread daily rainfall totals between 200-300mm are forecast, with the heaviest falls expected within coastal catchments. Higher localised falls are possible, as is localised flash flooding.
The Bureau's Tropical Cyclone Warning Centre in Brisbane operates 24/7, with forecasters monitoring the situation and providing the latest information to emergency services, media and the community.
To assist with an increased demand in services, the Bureau has redeployed staff from other states to Brisbane, including tropical cyclone specialist forecasters, hydrologists and other support staff.
The public are urged to closely monitor the Bureau's website for the latest information, tune in to the media and local radio and listen to the advice of emergency services.
For further information www.bom.gov.au/cyclone
The Bureau is now also using Twitter to disseminate significant weather information to the Queensland community. Follow @BOM_Qld. The Bureau's website remains the most up-to-date and comprehensive official source of information.
For further information on interpreting tropical cyclone forecast track maps, visit the Bureau's YouTube page.
For cyclone preparedness and safety advice, visit www.emergency.qld.gov.au/emq/css/cyclone.asp