Negative Indian Ocean Dipole dominates Australian climate
13/09/2016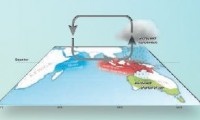 A surge in strength of the negative Indian Ocean Dipole (IOD), combined with a La Niña–like pattern in the tropical Pacific Ocean and seas around Australia, is strongly influencing Australian climate.
In the Indian Ocean, the negative IOD has strengthened, after easing somewhat during August.
The weekly IOD index is close to the record values observed in July. Despite this recent re-intensification, climate models continue to suggest the IOD will weaken in the coming months, returning to neutral values before the end of 2016.
During a negative IOD much of eastern Australia typically experiences above-average spring rainfall. In the Pacific Ocean, although some La Niña–like patterns are present, there remains limited connection between the atmosphere and ocean, and hence La Niña thresholds are yet to be met.
A La Niña WATCH remains in place as some climate models indicate a late and weak La Niña is possible. During La Niña, northern and eastern Australia typically experience above-average spring rainfall, with the first rains of the wet season typically arriving earlier than average in northern Australia.
At present, warmer than average seas surrounding Australia—which more typically occur during La Niña—mean some La Niña–like impacts may occur even if thresholds are not exceeded.