Tropical Cyclone Debbie to impact the Queensland Coast
25/03/2017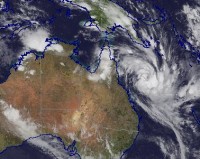 The Low in the Coral Sea reached Category 1 strength today and has been named #CycloneDebbie.
Communities between Cape Tribulation and St Lawrence, including Cairns, Townsville, Bowen, Proserpine, Whitsunday Islands and Mackay, are urged to prepare now for the cyclone to make landfall on Monday or Tuesday.
Although the strongest winds are near the core, damaging and destructive winds can extend several hundred kilometres from the cyclone's centre. These areas may be affected by gales as early as tomorrow (Sunday).
Queensland Regional Director Bruce Gunn has urged the public to stay tuned for the latest official forecasts and warnings from the Bureau, and follow the advice of local emergency services.
"Based on current modelling, the most likely scenario is for Cyclone Debbie to make landfall near Townsville, a little further south than the first advice issued.
"The intensity will depend on how much time the cyclone spends over the water, with current modelling suggesting the system will intensify to severe tropical cyclone strength Category 4 [on a scale of one to five, with five being the highest].
"Storm surge is also a risk factor. If the cyclone crosses the coast on the high tide, this will enhance these effects.
"Heavy rainfall is likely to continue well into next week for northern and central Queensland. This rainfall comes on the back of significant recent rainfall around Mackay, where catchments are already susceptible to flooding," said Mr Gunn.
A Flood Watch has also been issued for coastal catchments between Cairns and Gladstone extending inland to the eastern Gulf Rivers. Localised flash flooding is also likely, and the public is urged to exercise caution if caught in a heavy downpour and never walk, ride or drive through floodwaters.
Review your emergency kit and discuss your emergency plans with your household and family. Ensure you have medicines, water and non-perishable food if you become isolated.
Prepare your property by moving any loose items indoors or securing them and ensuring your roof is in good condition with gutters clear of leaf litter.
The Bureau's Tropical Cyclone Warning Centre in Brisbane operates 24 hours a day, 7 days a week with forecasters monitoring the situation and providing the latest information for emergency services, media and the community.
Follow us on Twitter @BOM_Qld and remember www.bom.gov.au remains the most up-to-date and comprehensive official source of information.
For further information go to: www.bom.gov.au/cyclone